BalaJi MicroTechnologies (BMT) is happy to release ultra high performance Line Scan Camera for machine vision & factory automation applications.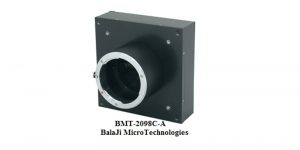 With strong in-house R&D & design efforts, we are happy to introduce wide range of line scan cameras which produces high quality images.
Key Features:
Our Line Scan Cameras are designed with latest technology & offers ultra high performance.
Our Line Scan Cameras are ideal choice for various line scan application like Fast moving and High speed inspections like colour sorting machine, paper inspections,web inspections, ceramic tiles, wood, print inspections etc.
Highly Cost Effective, Robust & long life cycle etc.
For more information Please Visit Out Product Page: http://www.balajimicrotechnologies.com/line_scan_camera.html
OEM/Custom design: Should your application requires very specific camera specification, our strong R&D team can take care of custom specific camera development as well. Do let us know camera specification along with projected volume. we shall make our proposal accordingly.
About BalaJi Microtechnologies (BMT):
BalaJi MicroTechnologies (BMT) is New Delhi, India based company, We are registered in India under Indian companies' act 1955. We are Multi-Million USD turnover company & unit of "B.B. Group of Companies". The group is into business since 1949.
"BalaJi MicroTechnologies (BMT) is India's No.1 manufacturer of high performance Machine Vision & Line Scan Cameras & precision Machine Vision lenses under our brand name "BALAJI OPTICS (BO)" which is also known as "BO Machine Vision lens ". Our company core interest lies in ITS/surveillance, Industrial/machine vision and medical imaging domain." In adition to strong footprint of business across PAN India, the company also exports to several countries around the world.
For More information Please Visit Corporate Website: http://www.balaji-microtechnologies.com/
Media Contact:
Email: media.relations@balaji-microtechnologies.com
Tel:-+911294006203
BalaJi MicroTechnologies (BMT) is New Delhi, India based company with headquarter & R&D Center in New Delhi.
Sales Office:
Address: BalaJi MicroTechnologies Pvt. Ltd. (BMT)
( A Unit of B.B. Group of Companies )
D-2/20, Sector-10, DLF Faridabad
Haryana-121006, INDIA
Office Tel: +91-129-4006203, +91-129-6561300
Office Mobile: +919643047670
Skype ID(For Product Inquiry): bmt.overseas
Whatsapp(For Product Inquiry): +919643047670
Email (product inquiry): sales.overseas@balaji-microtechnologies.com