CertainTeed has contracted global energy industry specialist Sparrows Group to inspect all lifting equipment across all 17 of their US Gypsum plants.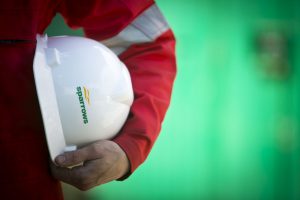 Through the agreement, Sparrows will inspect all lifting equipment at the gypsum facilities of the firm, one of North America's leading manufacturers of construction products. This scope includes overhead cranes, crawler cranes, hoists and loose lifting equipment.
Stewart Mitchell, chief executive officer at Sparrows, said: "This is a major step forward in our diversification strategy, transferring the extensive knowledge we have in lifting and inspection services into new markets and regions.
"Sparrows has an extremely experienced inspection team that will optimise the reliability and safety of all lifting equipment at CertainTeed's plants.  By engaging us to work across all of their plants we can provide them with confidence in the consistency of quality throughout their operations. Knowledge and skills built up over many years in oil and gas and the high standards the industry demands are bringing benefits to other sectors."
Sparrows is best known as a leading crane, lifting, and mechanical handling specialist to the global energy industry. As one of the most trusted names in the sector for over 40 years they have successfully diversified into new markets in recent years.
As part of the contract Sparrows have been engaged to provide an identification system to control equipment and records which will be accessible through their online client portal. The use of this software dramatically increases efficiency and ensures transparency while minimising the risk of non-compliances.
CertainTeed is a subsidiary of Saint-Gobain, one of the world's largest and oldest building product companies. They specialise in exterior and interior building products including roofing, siding, fence, decking, railing, trim, insulation, gypsum and ceilings.