Emerging companies from around the world graduate from the three-month animal health/ag-tech startup program in Topeka.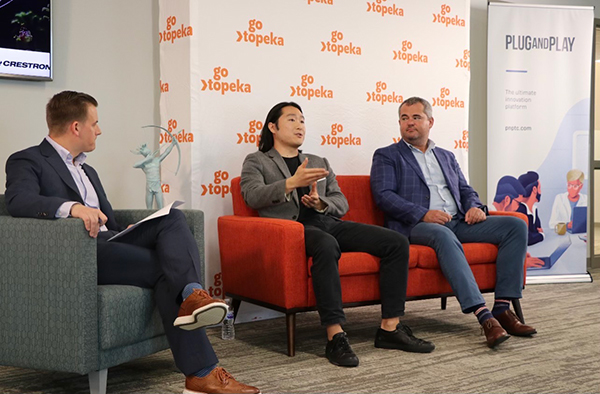 TOPEKA, Kansas – GO Topeka, the economic development group for Kansas' Capital City, today announced that 10 new startups have graduated from Plug and Play Topeka, an animal health and ag-tech incubator. The early- and mid-stage startups, selected after a pitch competition in late September, have successfully completed the three-month accelerator program.
During the event, each startup had the opportunity to facilitate and foster mentorships and connections through a product pitch to Plug and Play Topeka's corporate partners. The startups represent a broad range of new innovations including a biometric platform monitored through a wearable patch, a mobile veterinary telemedicine platform, new micro foods to nourish an animal's gut bacteria and drones to inspect remote infrastructure.
Here is the full list of participating companies:
"The opportunity to interact with Plug and Play Topeka's corporate partners has been extremely valuable to our company," says Keith Miao, chief executive officer and co-founder of Birdstop. "We're now well on our way to establishing collaborative partnerships with these organizations and our hope is to expand significantly in 2022 and be able to deploy out further in Kansas."
The Plug and Play Topeka accelerator facilitates and fosters partnerships, mentorships and connections provided by GO Topeka, while capitalizing on Topeka's robust animal-health and agricultural economic ecosystem. Topeka is centrally located within the "KC Animal-Health Corridor," the world's largest concentration of the animal-health related industries.
"It's been an exciting year of innovation for the capital city," said Katrin Bridges, senior vice president of innovation at GO Topeka. "The successful completion of the second accelerator program comes shortly after our announcement of the ASTRA Innovation Center, a 60,000-square-foot project that will be utilized for future Plug and Play startup accelerator programs. We can't wait to watch the success that these investments bring to the community."
More than 300 animal-health companies located between Manhattan, Kansas and Columbia, Missouri—including four of the top 10 animal-health companies in the world—generate 67% of the total animal-health, diagnostics and pet food sold globally, totaling $21.5 billion in annual sales.
"The intellectual capital and technology generated from our Plug and Play Topeka program amplifies the future of the animal-health industry here," says Lindsay Lebahn, program manager for Plug and Play Topeka. "It's exciting to see these startups move forward with their products after utilizing the region's resources."
Since the start of the program in spring of 2021, 20 startups have graduated from the Plug and Play Topeka accelerator program. Each year, the program will develop two accelerator groups, each of which are made up of 10 animal health and ag-tech startups.
About Plug and Play
Plug and Play is the leading innovation platform, connecting startups, corporations, venture capital firms, universities and government agencies. Headquartered in Silicon Valley, we're present in 35+ locations across five continents. We offer corporate innovation programs and help our corporate partners in every stage of their innovation journey, from education to execution. We also organize startup acceleration programs and have built an in-house venture capital to drive innovation across multiple industries where we've invested in hundreds of successful companies including Dropbox, Guardant Health, Honey, Lending Club, N26, PayPal and Rappi. For more information visit https://www.plugandplaytechcenter.com/
About GO Topeka
GO Topeka creates opportunities for economic growth that provide a thriving business climate and fulfilling lifestyle for Topeka and Shawnee County. The Greater Topeka area in Shawnee County represents a community of 178,915 people, located in the Greater Kansas City region. As the state capital of Kansas, Topeka is home to a dynamic employer base with headquartered companies, including Hill's Pet Nutrition, Advisors Excel, Security Benefit, Capitol Federal and Evergy. Topeka is located less than 40 minutes from suburban Kansas City's shops and restaurant districts, less than one hour to downtown Kansas City, including the KC Crossroads District, the River Market and the Country Club Plaza, and an hour from Kansas City International Airport. Topeka is proud to be a part of the #KCHeartland. For more information, visit http://www.gotopeka.com