3M announces new 3M™ Double Coated Tape GPT-020F, which features a new adhesive formula and offers greater design possibilities.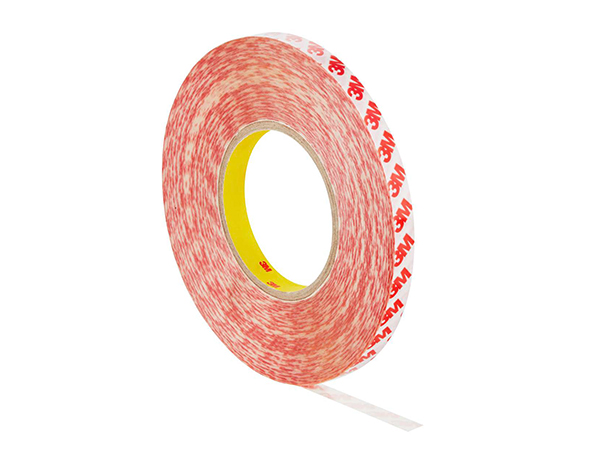 St. Paul, Minn. – 3M announces the newest addition to its General Purpose Tape offerings: 3M™ Double Coated Tape GPT-020F. Featuring an updated adhesive formula and a polypropylene BOPP film liner for improved handling, the new 200 micron (8 mil) thick tape offers strong performance across low surface energy (LSE) substrates and in high temperature environments.
3M™ Double Coated Tape GPT-020F simplifies supply chains by providing high bond strength and durability across a wide range of applications and substrates. The tape allows for greater design possibilities across a variety of markets, including consumer appliances, industrial machinery, transportation and consumer electronics.
It also has bonding capabilities for both high surface energy (HSE) and some low surface energy (LSE) substrates, such as acrylic, aluminum, glass, HDPE, stainless steel, PP and polycarbonate.
"At 3M, we recognize the importance of creating products that will save our customers' time by increasing efficiencies and streamlining their overall manufacturing processes," said Joe Otte, Senior Global Portfolio Manager. "Specifically designed for enhanced versatility, the new 3M™ Double Coated Tape GPT-020F works across a variety of substrates environments, making it the ideal tape to have on hand across a wide range of applications."
In addition to its capabilities across HSE and LSE substrates, 3M™ Double Coated Tape GPT- 020F also features superior high-temperature shear performance and can provide full bonding performance in temperatures up to 375° F (190° C) short term and up to 195° F (90° C) long term. It also has high initial tack and humidity resistance and can adhere at low temperatures down to 40° F (5° C).
This solventless adhesive features a white printed polypropylene BOPP film liner, which ensures easy liner release, improved handling and tear resistance for seamless processing and automation.
For more information on 3M™ Double Coated Tape GPT-020F, please visit www.3M.com/doublesidedtapes.
3M is a trademark of 3M Company.
About 3M
At 3M, we apply science in collaborative ways to improve lives daily. With $33 billion in sales, our 93,000 employees connect with customers all around the world. Learn more about 3M's creative solutions to the world's problems at www.3M.com or on Twitter @3M or @3MNews.
3M Public Relations and Corporate Communications
3M Center, Building 225-1S-15
St. Paul, MN 55144-100
Contact:
Cristin Kieser
Karwoski & Courage Public Relations
cristin.kieser@creativepr.com