8 Reasons to use a big data management system in the supply chain business.
Big data analytics is the use of advanced techniques to examine large amounts of data. The goal of a management system is to find patterns and draw useful insights.
Industries worldwide have plenty to benefit from using big data management systems in their supply chain management. There is a rising demand for experts in the field. As reported by essaywriterservice.com, data analytics enables professionals to apply their mastery of quantitative analysis in a business setting.
So what lucrative impact does it have on supply chain activities?
From improving transportation to managing communication, using big data analytics can help companies exponentially enhance their productivity. Read on to explore the specific benefits of using these tactics in your business system.
1. Sourcing
The supply chain process begins with procuring high volumes of suppliers' information for sourcing. Beyond the traditional spending analysis and performance review, big data analytics can help point out any deviations in the delivery patterns. This can, in turn, help with predictive risk management.
The data collection can also be imperative to arrive at strategic decisions. In today's competitive world, it is crucial for supply chains to be cost-effective. With real-time pricing and availability from suppliers, you can ensure the best quality of products available at the best price.
2. Reinforced Inventory Management
One of the first concerns of any supply chain business should be streamlining their inventory management. In order to achieve that, it is necessary for managers to get an up-to-date review of the operations.
Big data analytics can quickly give you information on inventory levels, consumption levels and point out any bottlenecks that decelerate the supply chain. Inventory data can identify any disparities between supply and demand. You can then weigh decisions such as the prices, timing for promotions, and adding new product lines. You can also identify the best selling products and optimize the inventory accordingly to meet the demands.
3. Sales and Operations Planning
Much like inventory, the other aspects of the supply chain also involve a data-driven process. Big data analytics have the significant potential to refine the industrial planning process and assess real-time demands to help shape the supply chain. It provides you with end-to-end visibility so you can be on top of the supply chain's complete process.
Product traceability is another critical benefit of big data analysis. It is easy to track a product using barcodes, which will also enable the company to gather accurate product information. Operators can thus stay on top of the distribution cycle, coordinating the sales and operations better.
4. Identify Consumer Behavior and Usage Patterns
Every company with a large amount of cargo is already using big data to enhance their system. It can be used to study usage patterns and habits of their customers. The data gathered can help to retain customers and increase the revenue exponentially when done right.
For instance, Amazon processes data using predictive analysis and automates the process by placing your orders to the nearest warehouses and distributing inventory depending on customer preferences. Vodafone is another company that has invested in big data to tap into more profitable opportunities. They even encourage businesses to invest in their data analytics to build business strategies.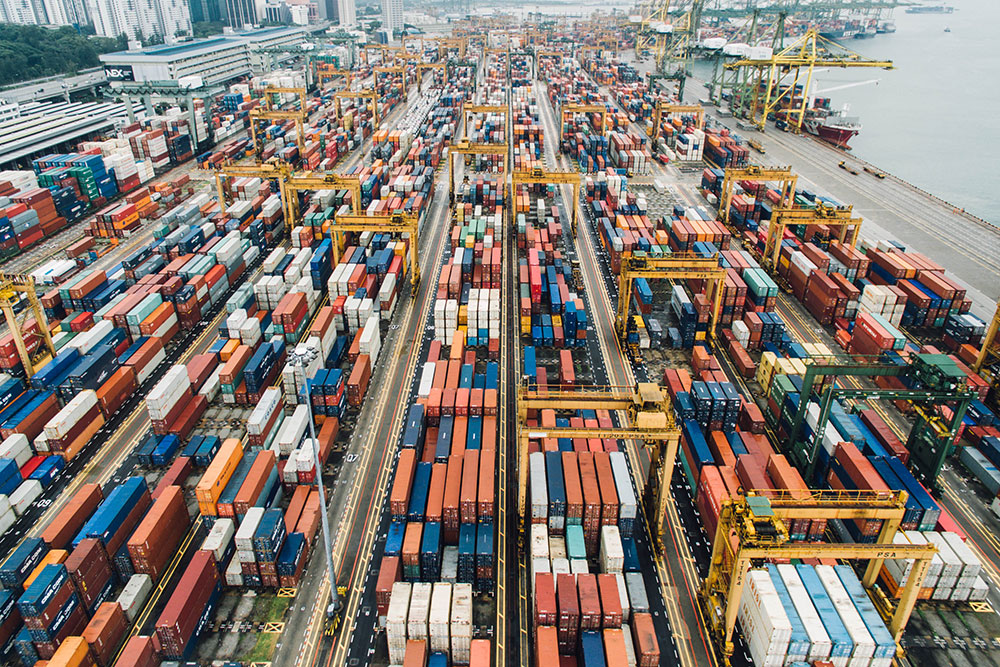 5. Manufacturing
As you know, the supply chain is essentially a cycle. Your inferences on the later phases can help you optimize the initial stages of the chain. The valuable data you collect from customer behavior can help you source better. It can also help you streamline your manufacturing. Manufacturers can analyze the quality of their productions with cameras in real time. They can even perform quality assessments for each product remotely.
Combined with the internet of things, data analytics can help you find future manufacturing opportunities for your business. It won't be long before an engineer can initiate a production remotely while using augmented reality to design the product from afar.
6. Leverage Unstructured Data
There are several areas in a supply chain that could possess valuable information. Big data analytics will tap into every data source, guaranteeing they make sense of the unstructured data in all departments. Moreover, as we emphasized throughout the article, this could happen in real time. It will help to tweak the strategies in place to increase success without wasting any time.
7. Better Relationship Management
In essence, big data can help you improve all aspects of supply chain management. Its effect is going to be evident in your customer experience, as well. When you have access to the right customer information, you can utilize it better to offer better services. And you have a greater chance of fulfilling the demands. You can also predict and fix issues that might come up in the distribution chain.
Every business has to be prepared for unforeseen scenarios. Big data can not only help establish predictive patterns. It can also allow you to develop swift responses to mitigate any risks. Data analytics can help you to plan better for the future and optimize your responsiveness.
8. E-Commerce and Point of Sales
Whether you are running an online or a retail store, you have to optimize the process for competitive advantages. Data analytics can help you invest in the right categories and locations. You can also prevent products from going out of stock by detecting the lack of supply earlier. You can see where you need more items and manage your inventory through a network of your partners. You can work out a replenishment plan without waiting for the product to sell out.
The data gathering does not stop at this level, either. With products connected to the internet, companies can always predict behaviors and address the demands in real-time. This is evident from the cases we discussed earlier, such as Amazon Alexa.
To conclude, there are several reasons to employ a big data management system in a supply chain business. It can help to reduce costs, decide swiftly, and act promptly. You can also develop products that cater to the client's changing requirements. Data analytics offer more clarity, accuracy, and a wealth of useful insights.