January 16, 2019
By Michael Stull, Senior Vice President, Manpower North America
The Manufacturing sector in the U.S. is in a new talent reality: High talent shortages, low unemployment and rapidly changing skills needs in an increasingly digitally-driven industry. Now more than ever, technical skills are hard to find and soft skills are hard to train, exacerbating the shortage of skilled manufacturing workers entering the talent pipeline.
The manufacturing sector in the U.S. is estimated to produce up to 3.5 million new jobs over the next decade.* These are not the low skilled roles of the past, they are digitally advanced positions that require new skills. As talent demand increases, We need more workers with new skills to do the jobs of today and tomorrow.
Organizations need to accelerate efforts to upskill and reskill employees to compete in the digital age and provide people with long-term employment security. Now is the time to highlight the advanced and attractive jobs emerging on the forefront of the manufacturing sector and tap into the breadth of opportunity Manufacturing 4.0 offers.
The Manufacturing Skills Churn
Technology is transforming how work gets done, creating new roles as routine and repetitious tasks are increasingly automated. Most employers in the U.S. expect overall headcount to increase as a result of digitization and the conversation has shifted from automation eliminating workers to transforming jobs.
Demand for traditional production skills is diminishing while thousands of new specialist roles have been created to service and manage automated technologies. Though Manufacturing and Production is leading the digital revolution with employers predicting the highest turnover over the next two years, 18% of employers actually expect to add to their headcount as result of automation. Only 12% expect to reduce headcount as manufacturing employers anticipate significant churn and experience skills cycles that are shorter than ever before.
Given the pace of change in skills driven by advancements in technology, the future is much more about what employees can do than the specific jobs they've done in the past. Hiring candidates for learnability – the desire and ability to grow and adapt – will increasingly become an operational advantage in the age of advanced digital manufacturing.
Opportunities to Upskill Are More Critical Than Ever Before
As manufacturing technologies and processes change, it is essential to identify adjacent skills and train employees for new roles through accelerated learning and development programs. The best employers are understanding skills, getting smarter about training and thinking differently about adjacent skills by bringing training and work closer together, ensuring stronger returns on their investments.
ManpowerGroup convened companies including Siemens, Microsoft, Caterpillar and GE to create an industry recognized taxonomy that defines digital manufacturing roles of the future. That groundbreaking workforce analysis, developed in partnership with the Digital Manufacturing and Design Innovation Institute (DMDII), identifies 165 data-centric jobs and 20 core roles that are defining the future of manufacturing. We used this approach to design the Advanced Academy of Manufacturing, partnering with Rockwell Automation, to upskill veterans for roles in digital manufacturing.
The accelerated learning is delivered through an innovative combination of classroom learning, hands-on job training and soft skills coaching to help veterans apply their military skills to roles employers cannot fill. At the end of just 12 weeks, the program leads to well-paid, sustainable employment. Of the three cohorts since the Academy of Advanced Manufacturing began, more than 95% of veterans have graduated and over 80% immediately secured permanent job offers from leading employers.
This model has become a blueprint to pave the path for Manufacturing 4.0 and helps people develop the skills that will make them valuable for the long term. This, in turn, gives employers the competitive edge.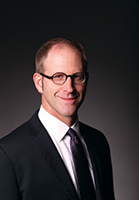 Michael Stull
Senior Vice President, Manpower, North America
Michael Stull is Senior Vice President of Manpower, North America. In this role he oversees ManpowerGroup's staffing business in the United States and Canada. He joined ManpowerGroup in 2010 as Vice President of Global Marketing and expanded his role to include North American Marketing in 2015. Under his leadership, he helped launch the new branding and several strategic innovation initiatives.
Prior to joining ManpowerGroup, Michael developed a broad range of experiences that include strategic, financial, technology and large-scale implementation expertise from organizations including Accenture and a variety of financial institutions.
Michael has a Bachelor of Science in Finance from Miami University and a Master of Business Administration in Finance from Indiana University. He is also very active in his community and currently serves as a member of the Board of Directors for the Marcus Center for the Performing Arts, the Milwaukee Zoological Society, the Milwaukee Area Technical College, and the American Red Cross of Southeast Wisconsin.
*Deloitte Insights and The Manufacturing Institute, Skills Gap and Future of Work Study, 2018