Utilizing UVC LEDs, UV-Locker is safe and efficient for sanitizing a wide variety of mobile devices or hand tools shared by employees.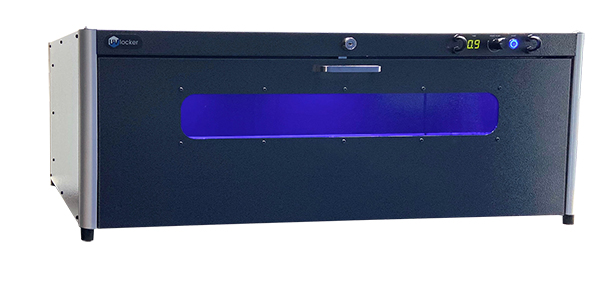 Euless, Texas: In the workplace and schools, germs spread like wildfire if you're not adequately equipped to thoroughly clean surfaces or shared devices. The new UV-Locker, developed by US-based manufacturing company AML, utilizes UVC LEDs to kill bacteria and inactivate transmissible viruses. Unlike air purification systems, UV-Locker is affordable, requires no set up time, and is lab proven to thoroughly disinfect irregularly shaped devices and tools. Typical items that need to be disinfected include phones, tablets, face shields, walkie talkies, mobile computers, and hand tools.
"During the pandemic, we have had several customers ask us how they should be cleaning the devices shared between workers," AML President Mike Kearby said. "Of course, a rag and disinfectant is one way, but there are many downsides. The best way is to expose the device to a bath of UVC light rays in a bandwidth that will kill bacteria and inactivate viruses."
UV-Locker is made for industrial and commercial applications including warehouses, distribution centers, offices, schools, law enforcement agencies and similar facilities. Made in America, UV-Locker is constructed of powder-coated steel, features a heavy-duty equipment rack, is stackable, and includes a rear compartment (non-exposed to UVC) to store accessories (e.g. chargers). In comparison to traditional UVC bulbs, UVC LEDs are safer, do not require time to warm up, and have a longer shelf life.
About AML
AML is a U.S.-based engineering and manufacturing firm that brings to market products designed to improve workflow efficiency and employee safety. Our portfolio consists of mobile computers for barcode data collection, user-facing touchscreen kiosks, commercial sanitizing products, and custom-engineered products designed to customer specifications. With AML, you receive proven technology that is engineered and manufactured in the USA and backed by a stellar technical support team.
For more information on the UV-Locker, go to www.uvlockers.com