Antlia Systems has installed thermal systems at the Chicago headquarters of MxD to bring its team and partners safely back to the workplace.
CHICAGO, IL – Antlia Systems, a woman and minority-owned business and a leading supplier of building safety technology systems that includes an array of thermal screening technologies, has installed equipment at the Chicago headquarters of MxD (Manufacturing x Digital) to bring its team and partners safely back to the workplace.
Funded by the U.S. Department of Defense and approximately 300 partners across industry and academia, MxD equips factories with the digital tools and expertise to advance innovation in manufacturing and make each part better than the last. To promote a safe return to work in the midst of the global pandemic, MxD has implemented an innovative building health plan that makes use of Antlia Systems' best-in-class temperature scanners at the building entrance. Antlia's exclusive Thermal Detection Kiosk with Identity Verification (ANT-FR-Q9) identifies employees and guests as they enter, checks for elevated body temperature, and even confirms whether they are wearing mask – all in just under a second.
"Providing a sense of safety in public spaces is critical for recovery," said Amy Yu, co-founder and CEO of Antlia Systems. "In a typical year MxD hosts thousands of visitors, and these additional measures are part of its plan to ramp up events and meetings safely."
Founded by Yu and Michael George, Antlia Systems was formed using established supply chain relationships to provide reliable metal detector and X-ray screening solutions to public and private organizations. When the COVID-19 pandemic hit, client needs drove them to expand their offerings to address new health and safety concerns.
MxD's 100,000-square-foot innovation center features a factory floor with some of the most advanced manufacturing equipment in the world. Many influential and large corporation partners including Boeing, Microsoft, Rolls-Royce, Siemens, Autodesk, and McKinsey & Company use the space for experimentation and training on everything from augmented reality to advanced simulation techniques.
With a broad national mandate to propel the US manufacturing sector into the future, MxD is also manufacturing safety products in-house to give employees further confidence they can enter the building safely. This includes sneeze guards, desk dividers and door openers that promote social distancing and reduce surface contact.
"As additional members of our team return to the office, we have been hard at work to ensure the MxD innovation center is a safe environment where everyone can continue to thrive and innovate," said Chandra Brown, CEO of MxD. "Given our mission to advance digital technologies in manufacturing, we wanted to integrate this thinking into our comprehensive return-to-workplace safety protocols through the Antlia temperature scanners, streamlined registration and check-in, and digital signage."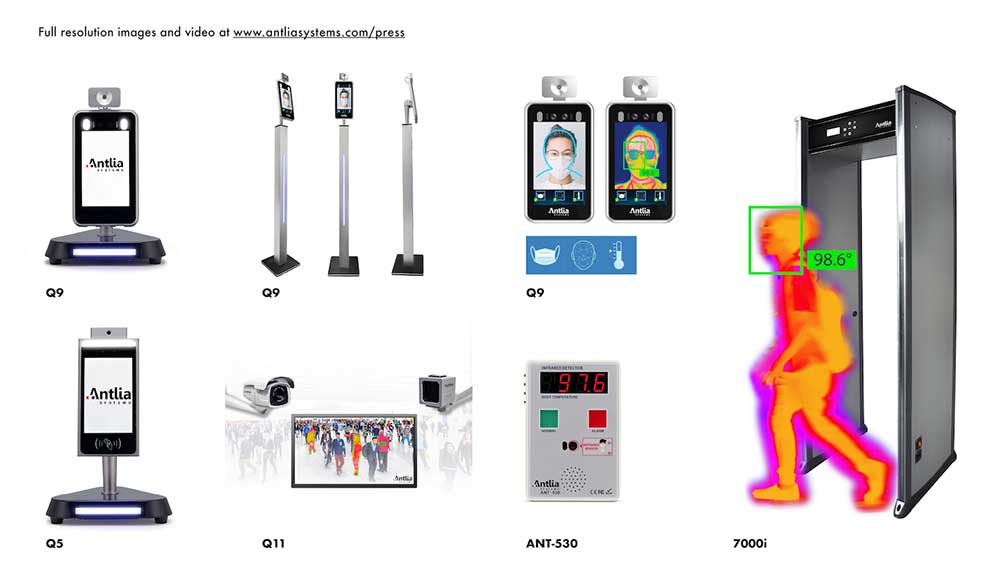 Antlia Systems suite of customizable thermal detection products are fully functional out of the box and can be integrated with existing building security systems. Its screening systems are used in many different public, private and nonprofit environments nationally including schools, government buildings, sports and entertainment venues, offices, airports and more. Notable clients include the U.S. Federal Reserve Banks, Kohler, Marie's Salad Dressings, Clark Construction, the City of Chicago, the greater Chicago area Bellwood School District, and the South Bend Housing Authority in Indiana.
About Antlia Systems
Based in Chicago, IL, Antlia Systems is a woman and minority-owned business. Its principals have been providing metal detectors and X-ray screening solutions to secure public and private facilities since 2008. Antlia's cutting-edge detection systems protect physical and biological security throughout North and Central America – granting the peace of mind and freedom of movement the world needs to thrive. The company's technology is used in variety of environments including public schools, government office buildings, major sporting events venues, restaurants and bars, transit hubs, airports and more. Thermal screening products include kiosks, camera systems and simple sensors. For more information visit www.antliasystems.com.
About MxD
MxD is where innovative manufacturers go to forge their futures. In partnership with the U.S. Department of Defense, MxD equips factories with the digital tools and expertise they need to begin building every part better than the last. As a result, our approximately 300 partners increase their productivity and win more business. For more information visit www.mxdusa.org.