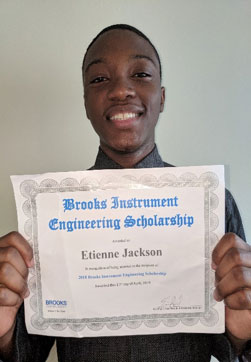 HATFIELD, Pa. (June 28, 2019) – Brooks Instrument, a world leader in advanced flow, pressure, vacuum and vapor delivery solutions, will once again offer an engineering scholarship for undergraduate students enrolled in an engineering program at an accredited college or university. The program was introduced in 2018 to reward exceptional students and help them pursue their career. The scholarship offers $2,000 to a candidate who shows potential for leadership and interest in engineering, particularly as it relates to instrumentation, fluid mechanics and flow or pressure measurement.
To apply, students should visit https://www.brooksinstrument.com/en/about-us/scholarship. The application requires a personal essay as well as a project review, proposal, lab work or other endeavors that give a detailed description of a process involving some degree of instrumentation, flow or measurement. To qualify for the scholarship, the project, research or investigation must incorporate flow, fluid mechanics and/or pressure measurement as an integral part of the process or data recording. The project can also be about the use or development of a novel pressure or flow measurement method or technique. In addition, students must upload a copy of their transcript.
In 2018, Brooks Instrument awarded this scholarship to Etienne Jackson, a Fire Protection Engineer studying at the University of Maryland. When recounting on his project that won him the scholarship, Jackson recognized his teams' successes as well as the difficulties they faced.
"This project has revealed issues that engineers go through when attempting to design a product. When a failing idea is brought up, it is important for the idea to be tested, so that more ideas can be tested until the best one is found."
Students like Jackson show a devoted interest in this field and are leading the way as the next generation of engineers.
Applications must be received by October 31, 2019. For scholarship details and requirements, visit https://www.brooksinstrument.com/en/about-us/scholarship.
About Brooks Instrument:
Since 1946 Brooks Instrument has been a leader in precision fluid measurement and control technology. Providing instrumentation for flow, pressure and vaporization, the company serves customers in semiconductor manufacturing, fiber optic and thin film manufacturing, solar cell, LED, alternative energy, oil and gas refining; chemical and petrochemical research; and pharmaceutical and biopharmaceuticals.
With manufacturing, sales, and service locations in the Americas, Europe, and Asia, Brooks Instrument has the world's largest installed base of mass flow controllers. Its broad family of products includes legacy brands such as UNIT Instruments, Tylan, Key Instruments, and Celerity.
For more information, please visit www.BrooksInstrument.com. The company is also on LinkedIn (www.linkedin.com/company/Brooks-Instrument) and YouTube (www.youtube.com/user/Brooks407).