The benefits of getting CNC (computer numerical control) milling machines for your own business.

CNC stands for computer numerical control. CNC Machines are simple yet they transform various materials into products that have precise detailing. Such materials include metal, plastic, wood, and other mediums. CNC machines can produce faster in huge numbers compared to manual milling. To have consistently precise quality, these machines are controlled by CAD (Computer-Aided Design) and CAM (Computer-Aided Manufacturing).
What CNC Milling Machines Can Do
Flat Surfaces — These machines are able to precisely cut and level away areas of the material and repetitively do so from one material to another to ensure tight closures.
Drilled Holes — Threads are carved through to make screws or bolts fit and it also bores exactly for every material.
Bored Holes — It follows the programmed size or diameter. So, every assembly of parts becomes precise and allows tight sealing. This is especially important for the dispensing or measuring of gas, oil, and other elements.
Machine tolerances can range from ±0.002 to 0.005 manageable dimensions and even cut at ±0.001- to 0.002-inch. However, small and tight tolerances must be considered if it may compromise the quality of the products due to too many repetitive processes in large volumes.
Why Use A CNC Milling Machine
Every business aims to keep making money, and that's always achievable with high-quality products. CNC milling machinery allows manufacturing business owners to set it up with annual calibration to keep it working for a long time. As long as the machine is in good condition, it'll keep producing good quality products.
These machines are highly valuable for the production of many different parts used in various industries, including aeronautics, construction, electronics, automotive, and transportation. When using the same high-performing equipment, these industries see you as a like-minded business person who can deliver results. Thus, you get more customers and contracts.
A CNC Milling Machine does a variety of tasks with incredible speed in different cutting positions. It's the only way to produce parts with the same dimensions, whether by cutting vertically or horizontally in rapid succession.
Created with advanced technology, CNC Milling Machines are superior in every aspect to manual and conventional milling machines. They're equipped with software to keep the processes consistent and to follow data at all times. When you want the same measurements out of the same material at incredible speeds, these machines are the best bet.
This machinery is beginner-friendly and even a novice operator doesn't need lengthy training procedures to handle it. Basic arithmetic and machining knowledge are typically required for simple operations, while certified programmers create the tasks for daily component creation.
CNC Milling Machines are heavy-duty and can design parts out of various materials. Advanced machines can cut, trim, and produce multiple types of components daily. Expect them to repetitively produce the same dimensions and mold with little to zero failures provided that they're receiving proper maintenance.
All machines require regular care and calibration by a certified technician or operator. However, milling machines can withstand the pressure of almost 24/7 continuous operation. When the machine is programmed to replicate the same design over and over at the same time interval, you can expect a smooth production flow.
CNC Milling machines don't require many operators and only need minimal supervision. There may be no more than two people for each shift that handles the same machine. You don't need to have too many people fussing over the equipment because it's built to last and uses Artificial Intelligence (AI) to handle its tasks.
A programmable milling machine receives the preferred measurements and strictly follows the flow of procedures to the hilt. A trained programmer can easily modify and make adjustments as necessary without the need to work on the machine itself. There's a high percentage of the precision and accuracy to ensure that every piece of material receives the same treatment as the one before it.
Safer Than Manual Milling
This category of milling machine includes safety features for operators. Drilling, cutting, and shaping procedures happen away from the operators who receive protection by enclosures. The barrier also keeps the residue coming from the carving and cutting in one space. There's zero chance that the waste will come in contact with a handler except during repair and maintenance.
Manufacturers don't have to waste time creating prototypes or models. CNC machines come with sophisticated programming to create one product after the other bearing the same specifications. The designer and creators of the machine decide how fast the machine will go from one procedure to another, producing hundreds or thousands of units by the hour.
A machine is indeed only as smart as its creator. In this case, you have both the designers and programmers to thank. CNC Milling machines have the technology to perform one cut, drilling, and shaping after another at various angles from a chunk of material.
In Conclusion
CNC Milling Machines provide the technology, precision, accuracy, and consistent flow of procedures for a high production rate. They have the features that make them fast, with low to zero human errors. You can save time and money and lessen the risk of wastage of materials. One does not have to fuss over its operation. However, people with the right credentials must handle it to ensure that the production is smooth day after day.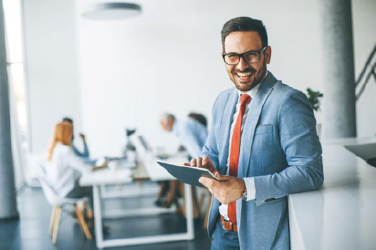 Max Huber
Max Huber works as a business consultant who aims to introduce new technology to his clients. Max is responsible for researching different kinds of machines, apps, and software and introduce them to his clients for reviews. Most of Max's clients depend on him when deciding whether to invest in new pieces of machinery.