The precision metal components company in Columbia, Connecticut, honors its entrepreneurial past with a bold vision for future growth.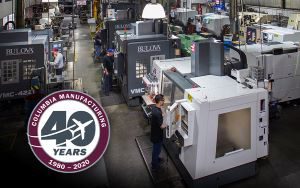 COLUMBIA, Conn. – The year 2020 marks the 40th anniversary of Columbia Manufacturing Inc. (CMI) since its founding by Mr. David N. Bell Sr. The Company, which manufactures high quality, complex turbine engine components for the aerospace and ground power industries, has successfully grown over the past four decades to be the largest employer in its namesake town in eastern Connecticut.
CMI is proud to be a world-class supplier of OEM hardware for critical processes as well as an FAA/EASA Certified Repair Station for maintenance, repair, and overhaul (MRO) services. The Company currently employs approximately 90 people operating over two shifts. Customers include major domestic and international aircraft and aerospace companies, including General Electric Aviation, Pratt & Whitney, and the U.S. Defense Logistics Agency, among many others.
Throughout the past four decades, CMI has made and continues to make significant investments in its people, processes, and capital equipment. It also has dramatically expanded its MRO business, a critical capability to service legacy aircraft engines that will continue to operate for decades.
"As we look ahead to the next decade, we are firmly committed to growth in both new engine components and overhaul and repair opportunities," said Robert Friedland, CMI President and CEO. "We are focused on expanding capabilities to serve the ever-changing needs of new engine designs and eliminating single points of failure. Our facility in Columbia, Connecticut, continues to have significant capacity for expansion, and we are committed to sustaining our presence through future growth."
Bob Nieszczezewski, CFO and Vice President of MRO Operations, added, "By modernizing operations and incorporating new technologies, we are positioned well for continued growth in both OEM and MRO. We have rebranded the Company with a modern new logo, an updated website, and we are moving quickly to diversify our customer base to be more versatile in this ever-changing market."
Friedland added, "We are hopeful and optimistic about the future of Columbia Manufacturing and look forward to continuing and expanding upon the legacy that Mr. Bell started, 40 years ago!"
FROM PAST TO PRESENT
Columbia Manufacturing was founded out of David Bell's passion for aerospace manufacturing and his connections within the industry.
A native of Manchester, Conn., he began a lifelong career in aerospace at Pratt & Whitney in 1956 as a machinist apprentice. He was a quick study with an entrepreneurial spirit that led him to pursue opportunities in Florida. He left P&W after ten years to join an aerospace machine shop and quickly rose to become a partner in the business. It was sold in 1978, and Mr. Bell returned to Connecticut to retire in the quiet town of Columbia.
He fondly remembered times spent with his family on Columbia Lake and purchased 110 acres to start a farm with horses and cows. However, retirement was shortlived when he saw an opportunity in the growing field of aerospace manufacturing. At the age of 40, Mr. Bell decided to open another machine shop in the current location on Route 66.
Mr. Bell knew the aerospace industry well and still had many contacts at different companies that helped him to grow the business rapidly. As an entrepreneur, he was very resourceful, often purchasing equipment from auctions and used machinery warehouses, and frequently repaired or maintained equipment on his own. He even bought used inserts and sharpened them himself.
As a family business owner, Mr. Bell was proud that many of his children and grandchildren would eventually have roles within the Company. He also took pride in providing employment opportunities to people within the local community regardless of their background, often training the less experienced in machining or other manufacturing skills.
Throughout its history, Mr. Bell maintained a vision to grow CMI by diversifying the customer base. His passion and drive led the Company to invest in two physical plant expansions making up the 90,000 square foot facility that exists today.
Upon Mr. Bell's death in 2011, ownership of the Company passed to his daughter Kimberly Bell. She led the Company in a variety of roles through 2017 and was instrumental in modernizing the facility and manufacturing equipment. When it was time for new leadership, Kimberly sought an entrepreneur to generate new ideas and drive further growth.
Robert Friedland, the former CEO of Proton OnSite, was named President and CEO in 2018. Over the past two years, he guided CMI to record the best year of new order bookings in its history.
Then early this year, the COVID-19 pandemic struck. The first quarter of 2020 presented the world with far-reaching challenges. The aviation industry has been significantly impacted, and the manufacturing supply chain has been greatly disrupted. As a result, CMI has seen about a 10% drop in sales from 2019 levels.
From the beginning of the pandemic, the Company put the health and safety of employees first. To date, the Company has been fortunate not to have significant impacts to our employee base. "We remain steadfast in our commitment to the aerospace industry," said Friedland. "We believe that this situation is only temporary, and we are confident that we will return to pre-pandemic levels soon."
For more information, visit http://www.columbiamanufacturing.net.
About Columbia Manufacturing
Columbia Manufacturing, Inc. is a world-class supplier of precision fabricated metal hardware for turbine engines serving customers, including General Electric Aviation, Pratt & Whitney, and the U.S. Defense Logistics Agency. As an FAA/EASA certified repair station, CMI also serving numerous customers in the overhaul and repair market for both military and commercial aviation and ground power industries. The Company is AS9100D with ISO 9001:2015 and Nadcap certified with specialized capabilities in producing complex components and multi-component fabricated assemblies for critical processes.