When the supply chain broke down due to COVID-19 Valentine never wavered, showcasing the importance of regional manufacturing.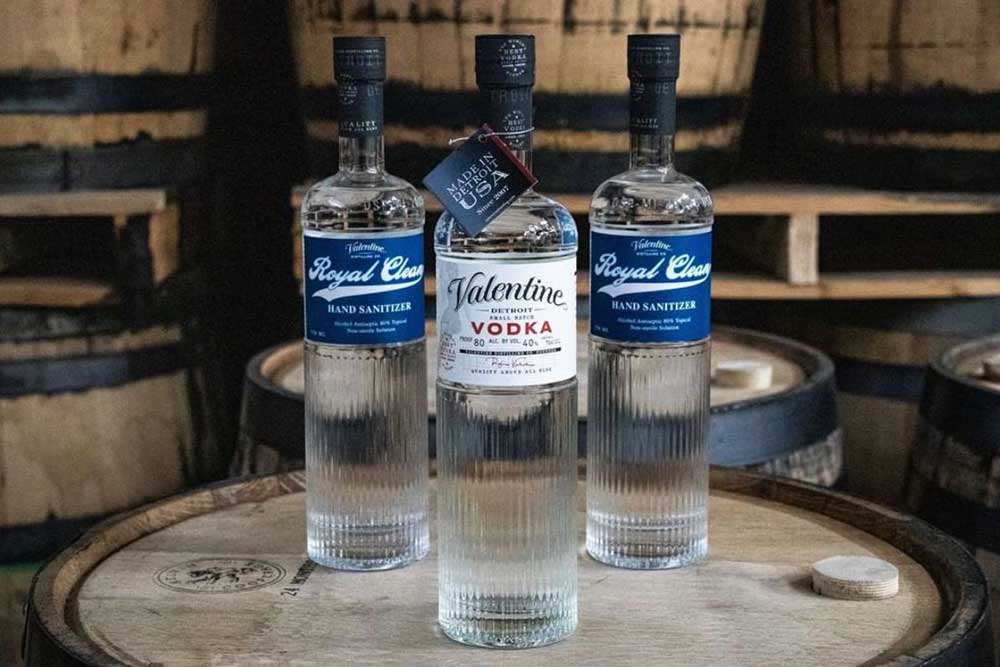 Ferndale, MI—The world is changing amid the COVID-19 pandemic. While experts warn of the "new normal" that is to come and businesses either change perspectives or get left behind, Valentine Distilling Co.'s values have never wavered.
Valentine Distilling Co., one of the nation's first craft distilleries, was founded on one man's simple philosophy—quality in mind above all else. Founder, Rifino Valentine, is an American entrepreneur with a strong appreciation for manufacturing in America and specifically in Detroit- a city well-established as the epicenter of quality manufacturing for more than a century.
As America witnesses a supply chain breakdown during the current crisis, Valentine Distilling Co. is impacting manufacturing in a way it would have never considered less than two months ago. Valentine's impact continues to show what true excellence in American manufacturing is, while demonstrating the importance of regional manufacturing.
Valentine Distilling Co. has shifted gears from manufacturing spirits to manufacturing its 'Royal Clean' Hand Sanitizer. While staying nimble in its business, Valentine has stayed true to its value of quality manufacturing.
"It is important to recognize there has been a supply chain breakdown," said Rifino Valentine, Founder of Valentine Distilling Co. "Due to this breakdown, consumers in southeast Michigan haven't been able to gain access to products such as hand sanitizer. That is the importance of regional manufacturing. We have been able to not only support the regional market, but supply consumers with a product they need."
The Michigan-based distillery has always believed in the principle of buying and sourcing locally, not just to support local storefronts, but also the business-to-business operations behind the scenes.
"You may not even realize your impact," said Valentine. "If you buy from the local diner, who buys from the local farmer, who buys from the local manufacturer, you are supporting three organizations in the regional manufacturing supply chain."
Valentine urges you to remember the core values, quality, and care regional manufacturers have shown you throughout this time. Remember those business who were truly there for you to provide you what you needed in a time when you needed it most.
"Small business is essential to the United States," said Valentine. "You have witnessed local and regional companies being flexible and pivoting on the drop of a dime to support their communities. Don't forget that. Don't just support these businesses by buying the products you need throughout the pandemic, but as well as the products that are the core of their business and will continue long beyond this crisis. Support your local and regional company's product lines, as they have been produced with the same quality and care before, during, and after the COVID-19 crisis."
For more information on Valentine Distilling Co.'s story of regional manufacturing, visit its website.
About Valentine Distilling Co.
Handcrafting world-class whiskey, gin, and vodka since 2007, Valentine Distilling Co. is an American pioneer of small batch spirits. Receiving international recognition, Valentine Vodka, won the World's Best Vodka in 2016 and 2017 at the World Vodka Awards in London. Valentine Distilling Co.'s Liberator Gin has also received the "Best American Gin Distillery" at the Berlin International Spirits Competition. In summer 2019, Valentine's Mayor Pingree Whiskey received 93 points and a Top 10 ranking from Whisky Advocate. In the tradition of Detroit's manufacturing leadership, Valentine Distilling Co. is dedicated to American ingenuity, quality manufacturing, and small batch distilling using old-world techniques that create superior products.
Valentine Distilling Co. Production | 965 Wanda Street – Ferndale, MI 48220
Valentine Distilling Co. Cocktail Lounge | 161 Vester Street – Ferndale, MI 48220
www.ValentineDistilling.com | www.facebook.com/ValentineVodka
https://www.instagram.com/valentinedistillingco/| Media Kit