DronaHQ low-code internal tool builder releases new UI editor that makes front end application development even easier with WYSIWYG builder.
DronaHQ, a SaaS-based low-code platform, has been at the forefront of low-code development since it first launched its builder in 2019. Today, it launched a brand new version of its UI editor.
Three months in the making, this update promises to give a much more simplistic UI designing experience to platform users.
The WYSIWYG (what you see is what you get) UI editor allows developers to build applications for the web, desktop, iOS, and Android using a simple drag and drop interface that gives the ability to:
1. Build everything for a single form-factor
2. Design user interfaces faster
3. Place UI control anywhere
4. Resize any control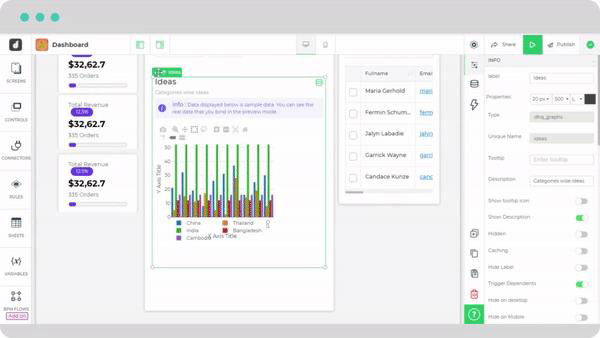 A New WYSIWYG Editor
DronaHQ Co-founder Jinen Dedhia writes, "While DronaHQ's advanced editor is extremely powerful, it also meant a need for a high level of expertise around CSS and HTML to build the pixel-perfect user interface. Sure it helps to build a professional-grade UI with an ability to go responsive on its design. But when it comes to building internal tools or workflow apps, seldom our customers are finicky about the UI. They rather cared for a simple drag-drop approach to build for a single form-factor"
Up until now, the UI editor had been easier for people with certain expertise around CSS and HTML. The new UI Editor has completely revised that. From now on users without coding skills will also benefit.
"The feedback loop that we maintain with our customers allows us to turn around quality releases with an emphasis on their needs. To that end, we've been laser-focused on making the top-requested features of our users a reality. Flexible, highly customizable, and designed with the user in mind, the new UI editor makes no-code WYSIWYG editing all the more awesome," he added.
The new UI editor displays the changes being made in an application interface in real-time. Users can preview the Live View of the applications designed on different devices before publishing. This comes in especially handy when business users or citizen developers are tasked with having to create applications that can run across several devices.
Best of both (UI Editor) worlds
"Speed is the name of the game, and with the new editor, we launch one of the most important missing links in the tool," writes Jinen. The platform aims to overcome many of the limitations that low-code development toolkits have and enable customers to handle any challenge, from the simplest implementation through to the most complex use case.
"We are all about empowering business users, but being developers ourselves, we aim to keep the platform as flexible and extensible as we can."
The advanced editor will co-exist with the new UI editor. DronaHQ end-users will have the option to choose the editor as they begin designing the applications.
The choice for the editor will run at a screen level, not application level so that applications designed on the platform can have a mix of high-level pixel-perfect screens and simple screens.
Even more perks for app makers
While at our core, we are a visual app development platform, though a lot of our platform's power resides in the tools ability to create interactive front end designs, with logical functionality, and connectivity to your data sources.
Needless to say, along with the new UI editor, DronaHQ offers plenty of powerful UI controls, front end event handlers, and ready connectors to start creating powerful applications on top of your data sources, at speed.
The company is also creating a new marketplace of ready to use app templates where users can pick a template, connect to data sources, and publish within minutes.
"We do have a roadmap to further strengthen this new UI editor to make it more powerful for the user persona who is not design or CSS savvy," writes Jinen.
The new editor is beta live for users to give a spin and share their feedback with the team.
About DronaHQ:
DronaHQ is a SaaS-based low-code platform to build custom web and mobile internal tools, portals, and operational apps. The only low-code platform to offer usage-based pricing, DronaHQ includes an intuitive and powerful front-end designer, event handlers for UI controls, best-in-class automation builder, ready database and API connectors, GraphQL and REST API integration and enterprise-grade security.
DronaHQ is a recognised global leader in the enterprise technology market. Trusted by Fortune 500 companies, SMEs and startups across the globe. ISO 27001 and SOC II certified, DronaHQ supports 1 million + app users, 1000+ enterprise-grade apps built.
More info: https://www.dronahq.com/