After 2 years of waiting, T3DMC were excited to be back at TCT 3Sixty, showcasing their range of 3D scanning devices.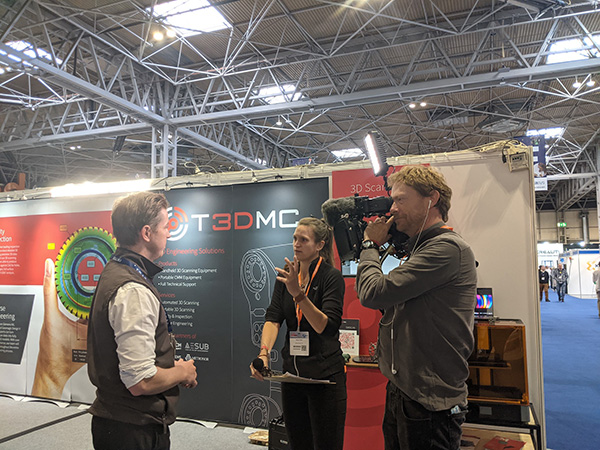 After two years of waiting and cancellations owing to the pandemic, trade shows are back – and the team at the 3D Measurement Company (T3DMC) couldn't be happier.
At the end of September we exhibited at the world-renowned TCT exhibition, which was held at the National Exhibition Centre in Birmingham, from 28-30 of September. Our engineers we're excited to demonstrate four new handheld scanners from ScanTech: SIMSCAN, KSCAN Magic, TrackScan P42, as well as the cost-effective 3D portable colour scanner iReal2E.
The brand new SIMSCAN is the fastest, smallest, and lightest 3D scanning system on the market weighing only 570g and measuring only 203 x 80 x 44mm. The SIMSCAN can capture areas of 410 by 400mm at a rate of over 2,000,000 measurements per second. Crucially, it's manufactured using aerospace grade aluminium which makes this 3D scanner very robust, whilst also being very comfortable to hold and use in any situation.
But without a shadow of a doubt, the star of the show was the iReal2E Colour scanner. The feedback we have received from customers was overwhelmingly positive; from medical to arts, museums to light engineering applications, everyone was impressed with the iReal's capabilities.
Specifically designed for non-industrial applications, the iReal2E 3D scanner lets you capture exactly what you see. It is ideal for medical applications to scan patients' faces or full bodies, 3D scanning of artefacts or rapid capture of large organic shapes. Whatever the application, the rate of capture and the scan data quality make this a very capable entry level scanning instrument.
"The iReal is unique in its capabilities and affordable in its price point", explained Adam Stanley, Managing Director at T3DMC. "The response we've had whilst demonstrating it shows there is a gap in the market for such handheld systems that are both versatile and accessible and we're proud to be offering them from our partners ScanTech".
Alongside portable scanning systems, visitors to T3DMC's sizeable stand were also offered consumable samples from the AESUB scanning spray range, which are an innovation T3DMC supports in the UK market.
For more information on 3D scanning products available from T3DMC, visit www.t3dmc.com.
For more information, please contact:
Suzanne McNicholas
Head of Digital & Content
Reech Media (on behalf of T3DMC)
Suzanne.mcnicholas@reech.media
With over 20 years' experience, The 3D Measurement Company (T3DMC) are a leading UK supplier of 3D engineering solutions. ISO9001 certified by Interface NRM, a UKAS- accredited certification body, T3DMC specialise in 3D measurement, quality & inspection, reverse engineering and 3D measurement system solutions. Working with customers across all industries, from automotive and aerospace to power generation and medical;T3DMC take great pride in helping clients solve their manufacturing and design challenges.
In addition to providing innovative portable 3D scanners, T3DMC are also experts in providing professional 3D scanning services, including automated scanning.