Emma –The Sleep Company rises and shines with commercetools and Fluent Commerce for modern eCommerce order management.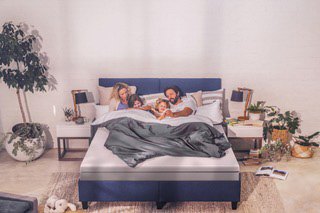 Emma – The Sleep Company, the world's largest direct-to-customer sleep brand, has chosen commercetools and Fluent Commerce to provide a new eCommerce platform for its rapidly growing business.
The retailer, which sold 1.5 million mattresses in 2020 in more than 30 countries, is famous for its foam Emma Mattress – which is commonly ordered online and delivered to consumers in a box. This business is rapidly growing with an annual revenue of €405M in 2020 which is a 170% increase on the previous year.
Committed to providing the best shopping experience for their customer, Emma decided to replace their eCommerce platform to better support their business growth plans. They selected commercetools, a MACH Alliance member, whose platform is built on modern MACH principles – Microservices, API-first, Cloud-native and Headless.) and supports Emma's technology strategy, as their online store backbone.
Alongside commercetools, Emma chose a distributed Order Management System (OMS) from Fluent Commerce (also a MACH Alliance member) to streamline online and offline order management, giving them a single view of global inventory and the ability to fulfil and return customer orders in the future more efficiently.
AyataCommerce, a technology services company helped Emma with the rollout of the new distributed OMS. Fluent Order Management will be rolled out to more than 30 countries, including the USA, UK, China and India. The rollout kick-started in Columbia in August 2021, just few months after the partnership was formed and will incrementally cover all current and future markets. Emma aims to complete the rollout in 2022.
Andreas Westendörpf, CTO at Emma – The Sleep Company, said "The commercetools platform is one of the cornerstones of Emma's new composable E-Commerce architecture. In this partnership we share a high degree of strategic principles and practices of software engineering with the goal to provide agility to our rapidly growing business. commercetools is the first E-commerce platform to be designed for headless and cloud-native from inception, with excellent developer tooling and thus our choice for the E-Commerce backbone. We are happy to have found the perfect partner for Emma's E-Commerce platform of the future."
Dirk Hoerig, CEO at commercetools, said "We are thrilled to be working with Emma as we provide the industry leading headless eCommerce platform to their advantage. Our commitment to delivering quality solutions with a rich ecosystem of excellent developer tooling is what sets commercetools apart in the market and is why we are a trusted platform to so many in the market. We look forward to a prosperous partnership"
Graham Jackson, CEO at Fluent Commerce, said: "Our technology is a great fit for rapidly growing retailers looking to enhance the online buying experience for their customers. We look forward to supporting Emma as they continue to grow and invest into a very bright future."
Shine Mathew, CEO & Founder of AyataCommerce, said: "The team at Emma has an ambitious number of objectives that they need to deliver fast. Together, in 4 weeks, we successfully deployed to the first market. We are proud to have enabled the Emma team as quickly as we have. They now have the confidence and ability to take the lead in the next rollout as they deploy to a high number of markets. Working with the Emma team has been a rewarding partnership, and we look forward to continuing our working relationship with them as they successively implement increasingly complex operations in the future."
Countries the new OMS will be implemented include: Columbia, Germany, UK, France, Netherlands, Ireland, China, Australia, Sweden, Denmark, Hong Kong, India, USA, Belgium, Italy, Spain, Portugal, Austria, Switzerland, Brazil, Mexico, Canada, South Korea, New Zealand, Singapore, Chile, Japan, Argentina, Philippines, Indonesia, Taiwan, Malaysia, Thailand, Vietnam and Poland.