Greg Groth, Exact Metrology, recently participated in a panel discussing additive manufacturing, its challenges and opportunities.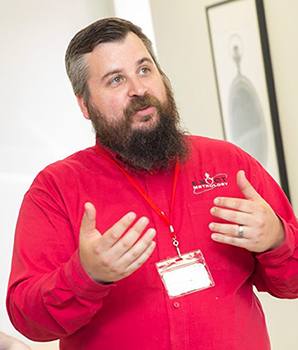 Exact Metrology: A Division of In-Place Machining Company and a comprehensive 3D metrology service provider and hardware sales company, had one of their employees give a presentation on 3D scanning and how to use it. Greg Groth, the Division Manager at the company's Brookfield, Wisconsin location, presented at Rapid+TCT, North America's largest additive event. Held recently at McCormick Place in Chicago, Illinois, Groth was part of a panel discussion entitled "3D Scanning: Why do it and how."
He discussed Exact Metrology's capabilities, with an emphasis on CT technology. Groth also cited how CT fits into the company's business model and how it supplements additive technology. In addition, the discussion covered the challenges that arise with complex additive parts and the need to incorporate 3D scanning into the quality process that validates parts. He also shared several examples of complex projects Exact has performed over the years.
When talking about additive manufacturing today, Groth said that there is a growing need for evaluation of additive parts once they are made. "We are naïve to the thought that even though additive circumvents the traditional manufacturing restrictions (draft/shrink) when making parts, the end result part is not perfect." He added that these parts need to be validated. Due to the fact that additive parts are so complex, inspecting them is a challenge. Thanks to CT scanning, this has become easier.
Even though CT technology has helped capture internal geometry for additive manufacturing better than other methods, there are still limitations of material penetration. Part design should think about the way the part will be inspected, whether using contact or non-contact measurement techniques.
Depending on the complexity of the part, most additive substrates can be scanned using structured light or laser scanning. However, complex powered metal substrates are feasible for CT scanning if their material properties and scale don't impede the penetration of the X-rays on the CT scanner. The denser the material, the more power is required.
In conclusion, Greg Groth said, "I think all additive markets can find value in the scanning and validation process. With the wide variety of scanning technology available, I don't think any market is untouchable."
Exact Metrology: A Division of In-Place Machining Company, is ISO9001, AS9100 Certified as well as ITAR Registered.
Exact Metrology: A Division of In-Place Machining Company, with facilities in Cincinnati, Ohio, Moline, Illinois and Milwaukee, Wisconsin, plus affiliated offices throughout the country, is a comprehensive metrology services provider, offering customers 3D and CT scanning, reverse engineering, quality inspection, product development and 2D drawings. The company also provides turnkey metrology solutions, including equipment sales and lease/rental arrangements.
In-Place Machining Company: On-Site Machining Solutions In-Place, Any Place in the World.
In-Place Machining Company, with facilities in Wisconsin, Washington, Virginia, Ohio, California, and Ontario, Canada, is the premier provider of high-precision engineered on-site machining, metrology, and large scale cutting & drilling services for a wide range of renewable energy, aerospace, industrial, and military customers throughout the world.
For more information, please contact:
Greg Groth
20515 Industry Avenue
Brookfield, WI 53045
Phone: 262-533-0793
www.exactmetrology.com
gregg@exactmetrology.com