RIM molder Exothermic creates superior finish for Canfield's Helena Rubenstein cosmetic displays.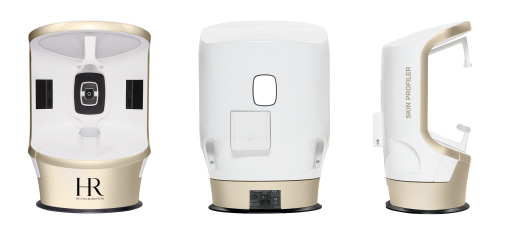 Kenilworth, NJ- Exothermic Molding, a specialty RIM plastics fabricator, is known to have an appetite for challenges. The innovative company, founded 50 years ago, has serviced manufacturers of everything from medical devices and instruments to fitness machines, to lunar landing vehicles, to robotics. One of its long-standing customers is Canfield Scientific, a company known in medical circles for its skin cancer imaging devices. The same company also produces displays for cosmetic and skin care product manufacturers.
Canfield has engaged Exothermic Molding to fabricate many of these cosmetic displays over the years for brand names like Christian Dior, Lancome and Helena Rubenstein. Jim Dornbusch, Canfield's Director of Manufacturing relates that he has consistently found Exothermic to be highly responsive and able to meet his company's demands, such as the need for high quality finishing.
Recently, Canfield engaged Exothermic to mold and finish a new display for Helena Rubenstein. The challenge, according to James Patnaude, Exothermic's Production Manager, "Involved matching a sprayed-on coating and ink applied by silkscreen to simulate a metalized color chip supplied by the customer. This required us to minimize the metallic flake so as not to appear painted or applied." How did Exothermic manage to match the metallic gold matte finish? "We sent the color chip directly to PPG color formulation lab for the custom 2 step process," according to Exothermic's Patnaude.
While products like these require a high-quality appearance, their beauty is more than just skin deep. Canfield recently authorized Exothermic to transition from urethane over to its new offering, Proxima®, a trademark of Materia, Inc. The superior strength of Proxima, according to Canfield's Jim Dornbusch, "Is tough as nails."
For more about Exothermic Molding's Innovations, visit: www.exothermic.com