Introducing SelectFlex® the only dynamic arch control insole with selectable support for improving industrial worker lower extremity health.
Culminating several years of research and development, Alliance Design & Development Group (ADDG) has pioneered the first and only orthotics with adjustable arch technology. ADDG specifically engineered SelectFlex insoles to help prevent the many ailments that often afflict those who work on their feet all day, particularly in industrial fields like manufacturing and assembly, construction, material moving, defense, etc.
Data indicates 70-80% of people are susceptible to over pronation caused when the ankle rolls excessively inward, or the arch collapses excessively downward as with flat feet. Over pronation disrupts the body's natural alignment, causes greater foot strike impact, and raises the risk for injuries ranging from mild to severe. For a fraction of the cost of investing is $300-600 custom-made orthotics, SelectFlex adjustable arch insoles help prevent injuries caused by over pronation, poor alignment, or other lower extremity issues.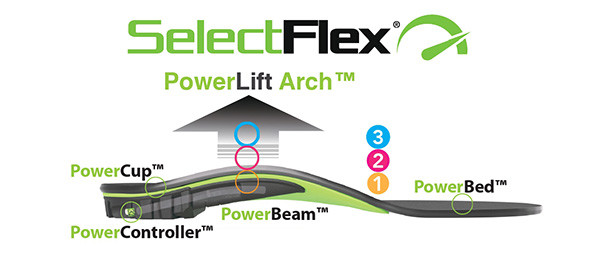 A key turn of the SelectFlex PowerController™ dynamically lifts the foot into alignment with the body and corrects abnormal pronation. The insole biomechanically conforms to individual arch geometry within three selectable stiffness level/arch height support settings—medium firm, firm or X-firm—which can be different for each foot or type of activity. The PowerLift Arch™ suspension system and PowerBeam™ arch lifting technology duplicate impact absorption of spring ligaments, mitigate downward compressive forces, and release energy back to the body throughout the gait cycle. In a recent Quinnipiac motion analysis study, results showed that the SelectFlex provided up to 52% increased arch height support and deformation control at each setting. SelectFlex also features the PowerCup™, which cradles the heel in super soft Durometer that cushions impact, dissipates walking pressures, and provides up to 50% more ankle stability. The SelectFlex PowerBed™ adds three extra layers—A medical grade ergonomic shell and composite memory foam foot pad, wrapped in an antimicrobial, deodorizing, moisture wicking, low friction fabric cover. Built to last up to a year or more with normal usage, SelectFex orthotics typically outlast over-the-counter gel or foam insoles by 88%.
SelectFlex offers the workforce population more pain relief, injury prevention and energy restoration, which translates to decreased worker's comp claims, reduced insurance premiums, lower numbers of missed work days, and higher productivity levels overall.