Volume 22
| Issue 4
| Year 2019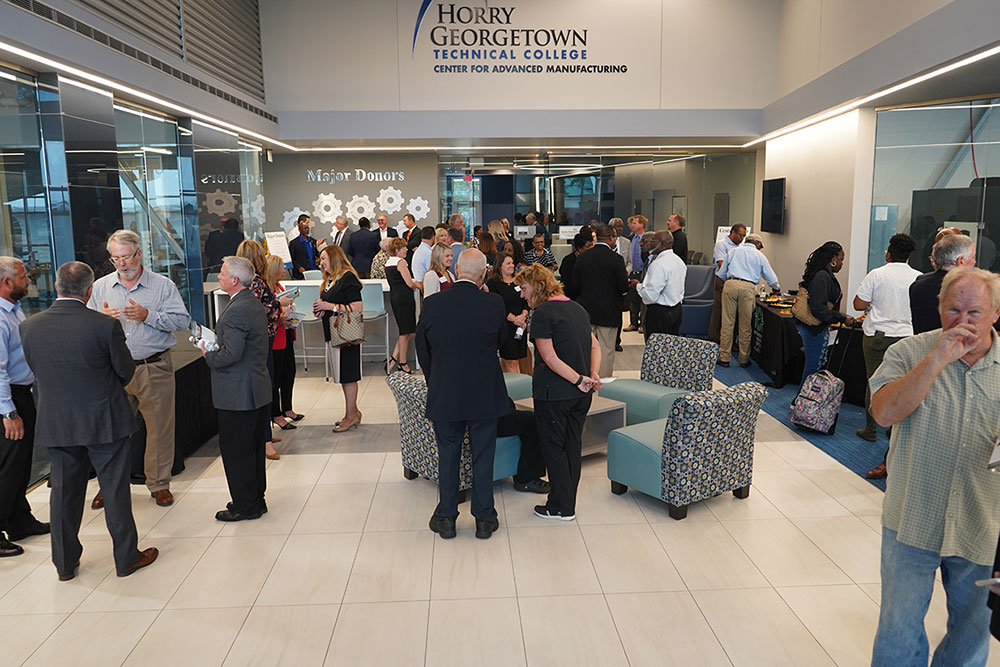 Click here to read the complete illustrated article as originally published or continue below to read the text article.
Horry-Georgetown Technical College (HGTC) proudly hosted the Grand Opening Ceremony for the Georgetown Center for Advanced Manufacturing (GCAM) on Tuesday, October 8. HGTC President Marilyn Fore led a dedication and ribbon cutting, and more than 200 community and industry leaders toured the new facility for the first time. South Carolina Governor, Honorable Henry McMaster, Representatives from Congressman Tom Rice's office, Representatives from Lindsey Graham's office, members of the South Carolina Legislative Delegation, and many County and City elected officials were in attendance for the celebration.
The brand new 30,000 sq. ft. state-of-the-art facility is conveniently located on the HGTC Georgetown Campus at 4003 South Fraser Street in Georgetown and home to technical educational programs such as advanced welding technologies, machine tool technology, and robotics and mechatronics technology. The Center is projected to support more than $14 million in new capital investment in the community over the next five years, and Georgetown employers project over 240 jobs will be needed in manufacturing over the next two to five years.
"We have been hearing from employers across the state, and they have conveyed to us their difficulties in accessing the highly trained workers needed to fill critical manufacturing positions," said Dr. Marilyn M. Fore, HGTC President. "Once again, HGTC is accepting the responsibility as a quick responder in providing the skilled workforce to meet industry wide demands."
The Center currently has 20 welding booths and more than $2 million each in mechatronics and machine tool equipment, including manual and computerized numerical control machines. The $13.5 million building is funded by a federal EDA grant, money from the state capital reserve fund, college funds, and contributions from Georgetown County and the Georgetown County School District.
"The HGTC Georgetown Center for Advanced Manufacturing is a tremendous example of one of South Carolina's technical colleges investing in our state's future workforce," said South Carolina Governor Henry McMaster. "Companies from all over the world are coming to South Carolina and creating demand for employees with experience in the skilled trades, and HGTC is answering the demand by creating opportunity for our people."
Mechatronics is a new program at HGTC and unique to the Georgetown Campus. Students in the mechatronics program will learn the fundamental skills in electronics, mechanical and fluid power and automated controls commonly found in the manufacturing industry. Graduates of this associate degree program will be able to perform a systemic analysis and troubleshoot equipment and machinery utilized in the industry.
"As more and more diverse industries open their doors in our region, we need to be sure our workforce is equipped with the training to fill high-skilled jobs," said Congressman Tom Rice. "The new Georgetown Center for Advanced Manufacturing will play a vital role in connecting people in our community with exciting new opportunities in the manufacturing field, and our local economy will reap the benefits."
The Georgetown Center for Advanced Manufacturing isn't just for college students. All programs are offered through the HGTC Technical Scholars Program, which allows qualified high school students to take college courses that count towards high school and college credit. This facilitates a smooth transition to college and career while also providing significant savings in the cost of tuition.
Local companies will also be able to utilize the facility for customized training for existing employees. HGTC provides many additional job training options for local companies, industrial prospects, and individuals who need job training for immediate employment. Participants learn new skills or enhance skills for career advancement, or earn needed continuing education units (CEUs) to maintain certification. Training can be customized and scheduled to fit any business' needs.
Workforce development funds, South Carolina Lottery Tuition Assistance Program funds, SC WINS funds, financial aid, and scholarships are all available to help students pay for their education.
President Fore expressed her appreciation and thanks to all that contributed to the project. "There are so many important people here today who have worked collectively to make this day possible. We want to pay tribute to our industry partners and donors," she said.
Century Club Members for the Georgetown Center for Advanced Manufacturing include:
Santee Electric Cooperative
3V Sigma USA, Inc.
EnviroSep
Coastal Wire Company, Inc.
Gulf & Atlantic Maritime Services, LLC.
Marilyn Murphy Fore
First Citizens Bank
Peddinghaus Corporation
Rob & Shannon Ardis.
Major Donors for the Georgetown Center for Advanced Manufacturing include:
American Gypsum
Georgetown County School District
Georgetown County Council
Timothy & Rose Tilley, EnviroSep
US Economic Development Administration
Georgetown County Legislative Delegation
Horry County Legislative Delegation.
"Your invaluable efforts brought this building to fruition. Your influence has given a voice for the greater Georgetown area not only today but also into the future," President Fore continued. "We want you to know how humbled we are by the overwhelming response from our generous community."
To learn more and enroll, visit www.hgtc.edu/manufacturing or contact Julie Golden, assistant provost of the Georgetown Campus.
ABOUT HGTC
HGTC offers college transfer and skilled associate degree programs in more than 65 fields of study, and many with online class options. Nearly all programs feature internships that lead to jobs. Ninety-five percent of students either transfer to earn advanced degrees or start careers in their respective fields of study. Horry-Georgetown Technical College prohibits discrimination against students and employees. Please direct discrimination and accessibility issues to the Office of Student Affairs at (843) 349-5228.
For additional information about HGTC, call (843) 347-3186.
www.hgtc.edu | Twitter: gohgtc | Facebook: www.facebook.com/gohgtc