Using HappyOrNot's Smiley Terminals™, Narita International Airport (NRT) will measure passenger experience through security checkpoints.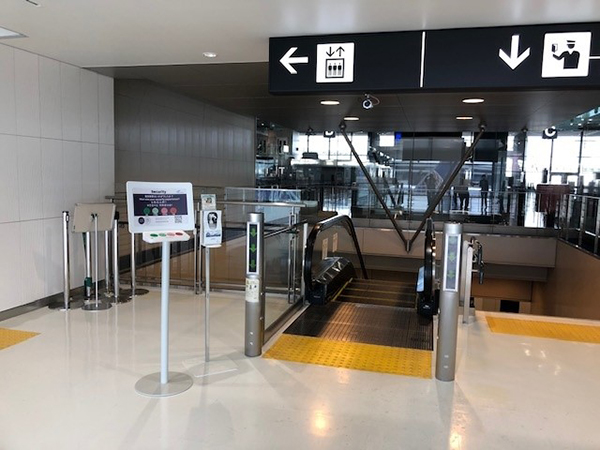 TAMPERE & JAPAN – HappyOrNot (www.happy-or-not.com), the leading customer feedback insights solution, relied upon by the likes of Elkjøp, Levi's Stadium, Autogrill, and London Heathrow Airport and it's Japan-based official partner Hitachi Systems Power Services Ltd., announces its latest airport partnership with Narita International Airport Corporation (NAA).
Using HappyOrNot's Smiley Terminal™ push-button type terminals, Narita International Airport (NRT) will collect substantial amounts of customer feedback, enabling them to monitor their passenger's security experience at 23 checkpoints across the airport. With this in-moment, actionable customer experience feedback data, NRT's management and staff will be able to identify, and immediately rectify, issues that are affecting passenger satisfaction, and make improvements based on data, rather than unscientific hunches.
SUZUKI Yoshie, General Manager of CS Development & Planning Department, Sales & Marketing Division at Narita International Airport Corporation commented: "After a year-long test period, we have chosen HappyOrNot as a partner for the next step of our customer feedback collection system. We installed Smiley Terminals at the security checkpoints in all three terminals – T1, 2, and 3. While ensuring stringent security and safety measures, we are committed to providing high-quality service to passengers."
Suzuki continued: "The attitude of security staff and clarity of the screening process, are influential factors in passenger satisfaction. We believe the service level at security checkpoints directly contributes to the overall travel experience. Thus, we decided to introduce a tool to measure and assess the service level quantitatively. HappyOrNot offers extensive reporting functionality with an easy-to-use admin user interface. The Smiley Terminal satisfies our safety requirements, and installation of a Local Area Network is not necessary.
Furthermore, the standard faceplate with anti-microbial buttons, and Smiley Link, a QR code-based self-scan feedback interface, relieve the respondent's covid-19 concern. We use the index derived from HappyOrNot as one of our KPIs of security service quality. Narita International Airport will continue to pursue customer satisfaction by offering the world's highest standards of service quality. We expect the feedback data and the insights provided will help us achieve our commitment."
FUKUMOTO Takashi, General Manager of Energy Sales Office at Hitachi Systems Power Services, and official HappyOrNot partner, said: "Our mission is to deliver the right product to the right customer. Smiley Terminal fits the transition of the aviation and airport industry into the post-covid-19 world. It is a powerful tool to capture passenger emotion at the airport, helping hospitality professionals balance touchless travel experience and human-touch hospitality. The four smileys make passengers feel heard and valued. We are very excited to help our customers prepare for the next normal."
About Narita International Airport Corporation
Narita International Airport Corporation (NAA) is a state-owned company responsible for the management of Narita International Airport (NRT). Narita is the busiest airport in Japan by international passenger throughput. It is also the second-busiest in terms of aircraft movements. As of 2019, the airport is the tenth busiest air freight hub in the world. Visit www.narita-airport.jp/en
About Hitachi Systems Power Services, Ltd.
Hitachi Systems Power Services (HISYS-PS) is part of the Hitachi Group and the Tokyo Electric Power Company Group, headquartered in Tokyo, Japan. Founded in 2014, it provides advanced ICT services with a focus on the electric power industry. Visit www.hitachi-systems-ps.co.jp
About HappyOrNot
Creator of the globally recognized four Smileys, HappyOrNot enables companies to identify and optimize experiences across all touchpoints through relevant, in-moment feedback data. With the ability to track, validate, and compare ongoing performance, companies are empowered to continuously improve experiences and drive operational success.
Founded in 2009, today HappyOrNot serves 4,000 brands across 135 countries, like Elkjøp, Levi's Stadium, Autogrill, and London Heathrow Airport, and has collected and reported on over 1.5 billion feedback responses. Headquartered in Finland, HappyOrNot also has offices in the U.S. and around the globe, and a reseller network of over 100 companies. Visit www.happy-or-not.com.