The Bio-Shield™ antimicrobial product line provides peace of mind by stopping the growth of bacteria and fungi where cleanliness is crucial.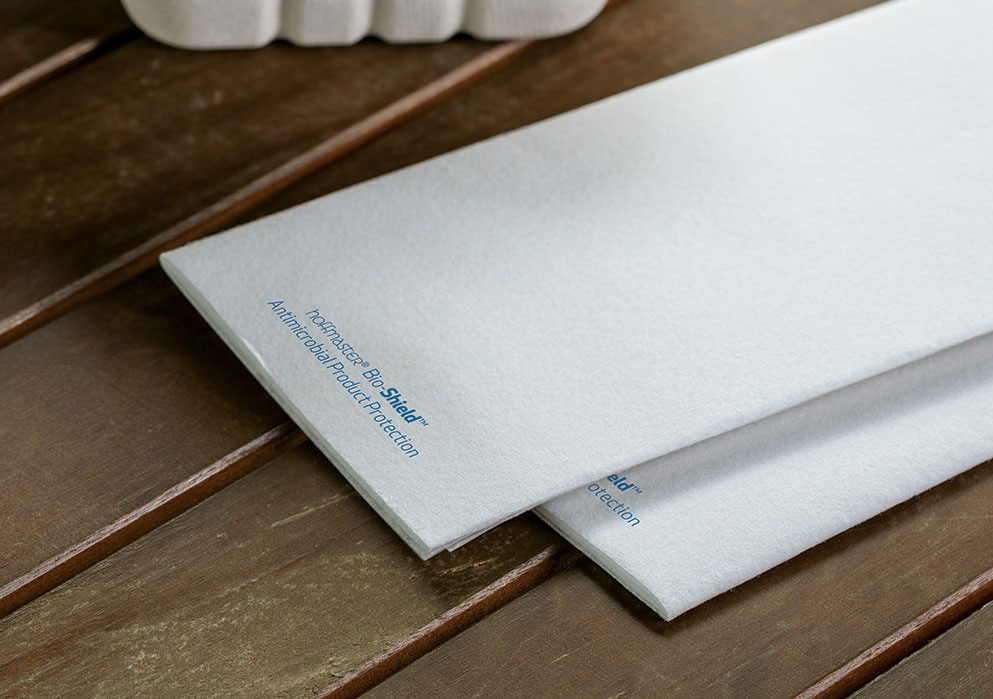 OSHKOSH, WISC. – In response to the evolving needs for cleanliness in the foodservice industry, Hoffmaster Group, Inc®, a leader in foodservice disposables, launches its new Bio-Shield™ antimicrobial product line: an applied technology that stops the growth of bacteria and fungi on contact.
"More than ever, the public has an increased awareness of cleanliness and sanitation," says Hoffmaster President Andy Romjue."
"Traditional gestures like a server handing a patron a stack of napkins or setting a fork on a bare tabletop are now things we all second guess. Bio-Shield™ gives confidence that unwanted bacteria isn't transferring," adds Romjue.
Bio-Shield™ utilizes silver ion technology to create permeant product protection. If bacteria were to land on a Bio-Shield™ product, antimicrobial technology binds to the bacteria, stopping it from growing or replicating.
This process is applied to some of Hoffmaster's best-selling disposable products ranging from tissue and linen-alternative napkins to disposable hand towels and placemats and traymats.
Though antimicrobial napkins and placemats are ideal in restaurant settings, Bio-Shield's usage extends beyond the restaurant sector. Disposable hand towels are great replacements for dispenser towels or hand dryers in restrooms, while traymats can be used in healthcare, hospitality room service, and the school classroom.
"Bio-Shield™ reaffirms that our company is continuously innovating and looking at trends that are truly needed in the space," adds Hoffmaster CEO Rory Leyden. "Hoffmaster is committed to transforming and elevating our offerings as the foodservice industry evolves."
The new products are available for purchase through traditional distribution channels or on www.hoffmaster.com.
See the full Bio-Shield™ line and learn more about the process here. 
For more information, contact:
Shelby Kaiser
Dittoe PR
513.205.7478
shelby@dittoepr.com
ABOUT HOFFMASTER GROUP INC®
Hoffmaster® is a one-stop source offering a complete line of premium disposable paper tableware items for restaurants, hospitals, and a wide variety of other service industries. The Company, established in 1947, is the platform company for the Hoffmaster Group, Inc. ® Foodservice Division. Hoffmaster is currently owned by Wellspring Capital Management.
DISCLAIMER: Hoffmaster® Bio-Shield™ antimicrobial technology does not protect people from food or disease pathogens and should not replace normal cleaning protocols.