Ingersoll Rand® has introduced the Zero Gravity Air Balancer Control Kit.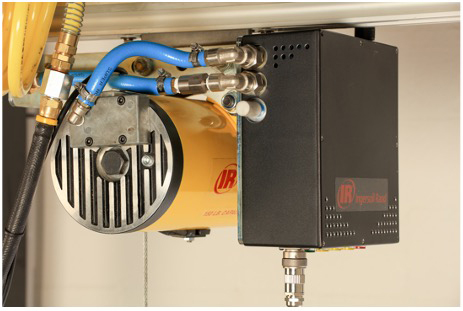 DAVIDSON, N.C. – Ingersoll Rand®, a global leader in reliable and innovative power tools, has introduced the Zero Gravity Air Balancer Control Kit. Operators can install the air balancer control kit on Ingersoll Rand air balancers to increase operator comfort and balance loads without adjustment.
"The Zero Gravity Balancer Control Kit is simple and intuitive – it's practically plug-and-play," said Bradley Imhoff, Global Product Manager for Industrial Lifting Equipment at Ingersoll Rand. "The control kit fills the market need for optimal lift control and comfort at an affordable price."
The Zero Gravity Air Balancer Control Kit inline handle replaces the need to use an up-and-down button to position the lift. The device uses the appropriate air pressure to support the lift load through innovative monitoring and valves, balancing the exact weight in real-time. Operators can simply lift the item up or down via the handle once the load is lifted and stabilized, increasing productivity, operator comfort and maneuverability.
Available as a retrofit on any Ingersoll Rand air balancer or as a packaged unit with the balancer, the Zero Gravity Air Balancer Control Kit is easy to install and maintain. The kit has the same features as a standard air balancer, configured with an intuitive set-up and functionality to minimize training and downtime. It is simple to operate with only two buttons, an on-off and an emergency stop button. All operators need to ensure is that there is clean air in the device to keep it working at peak performance.
The Zero Gravity Air Balancer Control Kit also comes standard with three programmable inputs and outputs to control a variety of different handling devices and offer operators the versatility they need in their facilities. The control kit has a load capacity ranging from 150 to 500 pounds to accommodate different packing, light or heavy assembly applications.
For more information on the Ingersoll Rand Zero Gravity Air Balancer Control Kit, visit www.IngersollRand.com or contact your local service representative.
About Ingersoll Rand Inc.
Ingersoll Rand Inc. (NYSE:IR), driven by an entrepreneurial spirit and ownership mindset, is dedicated to helping make life better for our employees, customers and communities. Customers lean on us for our technology-driven excellence in mission-critical flow creation and industrial solutions across 40+ respected brands where our products and services excel in the most complex and harsh conditions. Our employees develop customers for life through their daily commitment to expertise, productivity and efficiency. For more information, visit www.IRCO.com.