Funds will create 14 additional jobs and train 18 current staff members with new courses.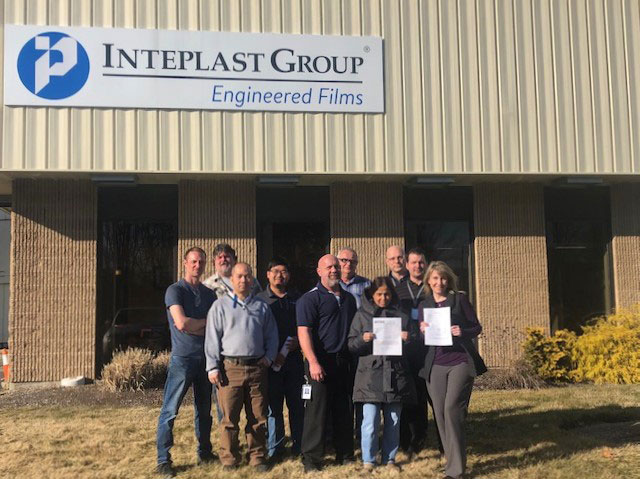 WESTBOROUGH, MA – February 20, 2020 – Inteplast Engineered Films (IEF) received $143,000 from the Workforce Training Fund Program (WTFP), which will create 14 additional jobs and train 18 current staff members at its flexible packaging manufacturing plant, where products for food packaging, agriculture, and consumer goods among other industries are made.
IEF is one of 133 businesses awarded a grant from the Baker-Polito Administration. An expected 1,361 jobs in the Commonwealth of Massachusetts will be created by 2021 due to these funds.
IEF President Bob Stein said that with the exception of some vocational programs, skill sets applicable to the manufacturing industry are not necessarily integrated in formal educational environments. The grant "rounds out the educational components essential" to the business, he explained.
"This grant helps us expand our employees' knowledge and skills to allow us to our give customers the very best quality and service," said Stein. "We're very excited to offer our associates content that is so critical to our continued growth plans in our Westborough operations. Though we always want our associates to remain with us throughout their career, we know that the skills they gain and build from this grant are transferrable regardless of where their career might take them."
Stein's insight echoes Massachusetts Gov. Charlie Baker's assertion that the grant will allow employers to "remain competitive in an ever-changing global economy" by attracting professionals who will receive high quality training.
IEF Plant Manager Scott Raley, noted that the staff of 35, which he hails as a "wonderful team," has not only focused on creating a safe workspace and but on innovation as well, which the award serves to promote. The team applied for the grant in August 2019 and after approval has held courses that include content areas such as, turnkey training; practical leadership; Six Sigma and Green Belt training, along with focuses on safety, yield, and time management.
"I'm excited," Raley said. "Thanks to the grant and the state investing in us, these workshops will prepare us to take it to the next level. This gives our employees the knowledge they need to increase quality, safety, and yield. We are able to train them while they're here at work with curriculum that adapts to our process in a way that offsite training can't address. These courses will help our management workforce, operators, and technicians become even better than they are now – and they are already a group of extremely hard workers."
Currently, Raley notes that four trainees are slated to become full-time staff members due to the grant. More hires are forthcoming, he said. Jeff Walsh of Manage Assist, Inc. has been hired to facilitate training courses for the plant.
According to the Executive Office of Labor and Workforce Development, the training will center on "job growth, retention, and increased opportunity."
This project is funded by a Workforce Training Fund grant from the Commonwealth of Massachusetts, Executive Office of Labor and Workforce Development.  The grant program is administered by Commonwealth Corporation, which is an agency that assists people with career development and sustainable work practices and has awarded 809 grants that total more than $80 million, training 60,000 workers across Massachusetts.
Engineered Films
Inteplast Engineer Films manufactures films for numerous markets including, but not limited to food packaging, industrial, building, horticultural and garden, janitorial and sanitation, and foodservice. The company offers a range of highly technical solutions with a growing offering in sustainable products. For more information, visit http://inteplastef.com
About Inteplast Group
Established in 1991, Inteplast Group is a leading integrated plastics manufacturer founded on the ideal of American manufacturing. Our products support diverse markets including healthcare, foodservice, packaging, building products, grocery, retail, sanitation, industrial, and graphic arts industries. Headquartered in Livingston, N.J., Inteplast Group is now over 7,000 employees strong and operates more than 50 facilities including our flagship manufacturing complex in Lolita, Texas. Our dedicated and experienced people are committed to delivering quality products and partnering with our customers to enable their success. Visit http://www.inteplast.com for more information.