August 26, 2019
By Dan Ballay, Global Service Manager
Landscape design is no longer confined to a building's exterior. Now, living green walls bring the outdoors inside, creating an inviting atmosphere that draws eyes and improves an owner's image with customers and employees. However, to enjoy the full benefits of these vertical gardens, building owners must select the right green wall system and take proper care of the living design. Planning for and performing the appropriate maintenance ensures a long-enduring vision, while ignoring this fundamental question could eventually render even the most beautiful wall an eyesore.
Designing for Effective Long-Term Maintenance
Maintaining an indoor vertical wall of living plants requires planning and consideration. One major challenge to effective maintenance can be access to the wall. If the wall is installed in a location that is difficult or costly to access regularly, there is an increased risk of plant failure. Before installation begins, living wall maintenance experts can provide valuable input to building owners, interior designers, and architects.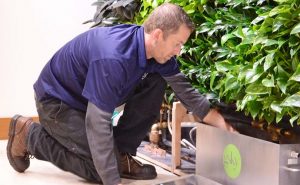 An access point must be established that enables maintenance professionals to reach the entire wall. If larger pieces of equipment are used, a pathway "traffic plan" should be planned to allow for transport to and from the wall location. Storage of these items must also be considered if they are kept on-site instead of rented as needed. If not well-planned, access equipment – both rented and owned – can be expensive and logistically cumbersome.
Lighting is another key requirement for the success of the interior green wall. Proper lighting levels and uniform light distribution are a must. If specified properly, lighting can provide the necessary color temperature and nutritional elements for interior plants to thrive. The owner of the wall should always consult with a lighting designer for a simulation study that calculates lighting levels prior to purchasing lights for their wall.
More unique architectural plans create access and functionality challenges, but proven GSky® systems, backed by a trained network of maintenance providers, can succeed at locations where a living wall is creatively installed. Experienced GSky® designers adapt and make informed decisions regarding the micro-climate of the wall, overcoming challenges to turn a vision into a maintainable reality.
Regular Check-Ups Keep Plants Radiant
Lighting and proper access are prerequisites, evaluated and addressed in the design stage, but regular care from technicians trained in the craft of living wall maintenance keeps the wall verdant. Effective maintenance holds the living wall design intent in check, keeps the plants healthy, and preserves the intended appearance.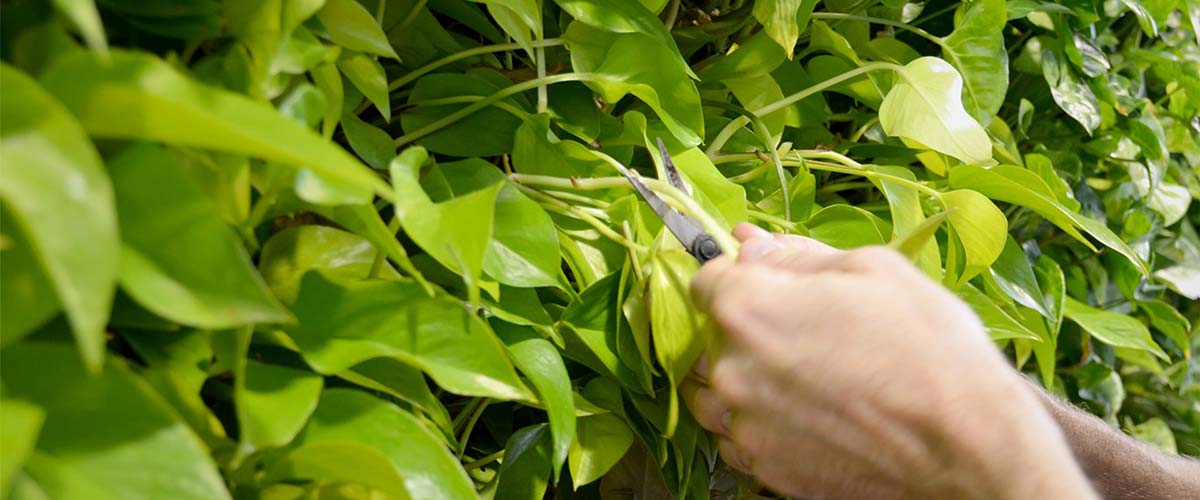 Standard care conducted by living green wall experts should be performed on an ongoing basis. Plants should be pruned and cleaned properly to keep plants compact, preserving the desired effect. The moisture level of the soil also needs to be monitored, so the maintenance professional can manage and adjust the watering schedule as needed to sustain optimal levels. Pests can also still strike indoors, so plants should be regularly inspected for diseases and pests, such as mealy bugs. If they do strike, treat accordingly. Food is fuel, and regular fertilization ensures that your plants maintain the desired levels of color and necessary nutrition.
While the wall system requires less care than the plants themselves do, maintaining the system itself ensures the longevity of a living art piece. Wall components, such as tanks, trays, filters, and fasteners, should periodically be inspected and cleaned. Since irrigation is essential for plant survival, inspect the irrigation system, irrigation timer, and drainage system to ensure continuing function. Performing occasional lighting reviews ensures the plants are getting adequate light, so adjust timers and fixtures where applicable.
Some Considerations to Ensure Maintained Indoor Living Green Wall Success
When considering a maintenance plan for a living green wall, keep in mind these considerations:
Replacing Plants
When a plant needs to be replaced, what type of replacement should maintenance professionals install? Owners should consider the requirements necessary to ensure the uniformity of the wall and its original design. GSky's Versa Wall® allows for plants to be easily maintained and replaced with no mess due to the flexibility of the 4-inch pots that are placed directly into the Versa Wall's trays without any "re-potting." Additionally, this allows for easy design change or, with a few replacements, added color.
Component Care
Parts invariably wear over time, so it is important to have a plan for replacing any given component of a wall should it fail or need repair. Consider whether the components are standard and readily available, or whether the replacement process will be longer if the parts are non-standard. The location of the part in need of repair or replacement is also a key consideration – can it be easily accessed, removed, or replaced?
General Maintenance Access
Maintaining the wall requires more than just being able to reach it. Do professionals have to bring a lift up to the 35th floor to maintain a 30-foot wall? Will furniture hinder access to the plants? Does the floor require special protection from a heavier lift or boom? Keeping these concerns in mind when planning for maintenance ensures not only that the wall is healthy but also that the surrounding space is clean and efficiently protected.
Environmental Conditions
Indoors, many factors must be considered to ensure the plants have a sufficient environment in which to grow. Non-optimal conditions – including lighting, temperature, and airflow – may lead to an increase in required maintenance. Planning and sustaining the right environment for the plants will mean less maintenance down the road.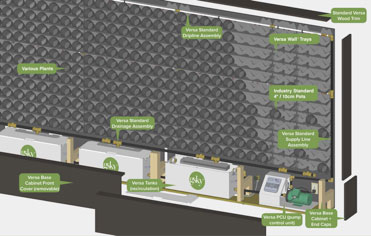 Irrigation Systems
Every living wall needs water to keep looking its best, and fully automated irrigation systems such as GSky's Versa Wall® system, will generally require less on-site labor with regard to maintenance. Alternatively, as tasks such as watering and fertilizing become more manual, the maintenance cost increases. The Versa Wall® only requires water every 8 – 10 days and its proven automated system prevents plants from getting over-watered. Thus, the irrigation system offers an advantage in terms of maintenance ease and cost.
Before Installing a Living Green Wall, Plan for a Vibrant Future with Experts
Living green walls are an exciting yet unconventional architectural and interior design choice, and the prospect of maintaining living things may deter the less ambitious. However, planning for wall maintenance during the design process and equipping technicians with the right tools and information can set living walls on a course for long-term success, growing more robust and beautiful with time. To protect a green wall investment, choosing a wall with a maintenance program and the industry's only plant guarantee from GSky® can extend the life of the artwork while mitigating the cost of ownership. Consulting wall maintenance experts early and throughout design, installation, and use will yield the greatest benefits for those considering the green wall option.