KerrEDGE Entrepreneurial Center offers resources to help small businesses succeed in Texas' 'Hill Country' region.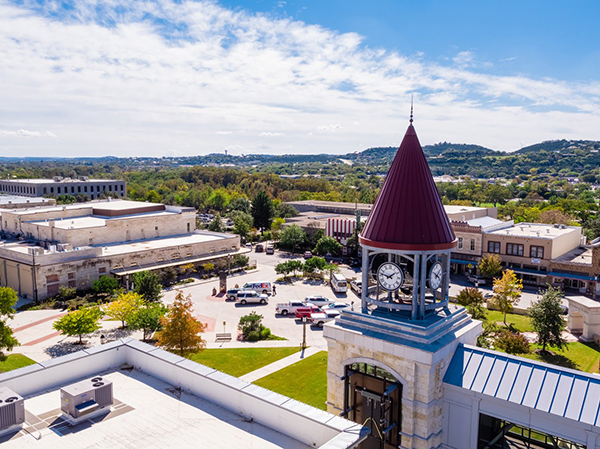 KERRVILLE, Texas – The Kerr Economic Development Corporation (EDC) announced today that its "KerrEDGE Entrepreneurial Center," Hill Country Texas' first business incubator and accelerator, is now open. The one-stop shop for current and prospective business owners offers support, education and mentorship from national and regional experts. It is the first of its kind in the Texas Hill Country region – an area along the growing San Antonio – Austin business corridor, home to 4.5 million people.
The KerrEDGE Entrepreneurial Center, which plans to open a brick-and-mortar facility in 2022, aims to diversify the area's economy, making it a cross-sector "hotbed" for innovation and investment. The region's growing industries include aviation and avionics, health care, craft agriculture and advanced manufacturing.
"About half of the U.S. private workforce is employed in the small business sector; and 99% of Kerrville's businesses are considered 'small,'" said Kerr EDC Executive Director Gil Salinas. "Because these companies have a significant economic impact, it remains vital to the Texas economy to encourage entrepreneurship and support local businesses. That is exactly what we aim to do with the area's first-ever Entrepreneurial Center."
Kerr County, Texas, remains a prime destination for new business relocation and remote work, and has seen 15 new businesses launch in the past 18 months. The region remains particularly attractive to agriculture, technology and manufacturing entrepreneurs, as well as companies in the aerospace and avionics.
"Kerrville provides the best of both worlds: It's a county of some 53,000 residents and so a desirable, tight-knit community, though it offers the rural retreat that many seek in the Hill Country," said Austin Brown, who recently expanded his business, Prime Metal Buildings & Components to Kerr County. "I expect the county's growth to continue at a rapid pace and look forward to being a part of its collective future."
KerrEDGE programs include a monthly roundtable series which began streaming in late-May. Upcoming sessions will cover topics such as finance, leadership, marketing, real estate, business law, strategy, insurance, and more. The training is designed to help entrepreneurs succeed throughout multiple business cycles – from inception to start-up and scaling for growth.
KerrEDC's first "40 Under 40" event in February 2020 also honored leaders, entrepreneurs and innovators within the seven-county Hill Country region. Its inaugural class now makes up several members of KerrEDGE (from participants to instructors and mentors). Its 2021 program has been expanded and will now showcase a broader range of innovative professionals.
"I was thrilled to be a part of the inaugural class for Kerr EDC's '40 Under 40' event," said Ricky Gleason, financial advisor for Prime Capital Investment Advisors. "I truly enjoy offering financial services to individuals and businesses in the Hill Country, which is poised for swift growth, and credit Kerr EDC's wonderful initiative for opening up more professional doors for me, too."
KerrEDGE currently has more than 20 mentors and class instructors from the Hill Country and has partnered with several regional entities to provide business resources, including: the U.S. Small Business Administration, SCORE, Texas Office of the Governor, U.S. Department of Agriculture, Texas Workforce Commission, Alamo Area Workforce Solutions, Alamo Colleges, Schreiner University, City of Kerrville, Kerrville Area Chamber of Commerce, Kerrville Independent School District and Ingram Independent School District.
KerrEDGE is an expansion of the business resources platform that launched for area businesses early in the COVID-19 pandemic – with real-time information about business closures, financial aid and more. The initiative is the next step in the organization's plan to promote regional recovery and resiliency. For more information, visit: www.kerredge.org.
About Kerr Economic Development Corporation
The Kerr EDC is an economic and business league located in the heart of the Hill Country and part of the San Antonio-Austin business corridor. The KEDC implements strategies for business and corporate growth in an array of sectors which are tied to the 2050 "Your Voice-Your City" comprehensive plan. The focus of the organization is to foster the community's growth through corporate recruitment, workforce development and maintaining the cultural vibrancy of the Texas Hill Country. For more, visit: www.kerredc.com/.