Koike Aronson Ransome has introduced the Cricket-II, an innovative new welding manipulator.
Arcade, NY, April 7, 2020 – Koike Aronson Ransome, a global leader in cutting, welding and positioning equipment, today announced the Cricket-II, an innovative new welding manipulator that is ideal for use with Subarc, TIG and MIG welding applications.
The Cricket-II from Koike offers the most stability in its class, with the ability to produce consistent welds and maintain joint alignment. It is equipped with a lift speed of 20 inches per minute, and a variable speed-powered reach option offers adjustable speeds from three to 120 inches per minute.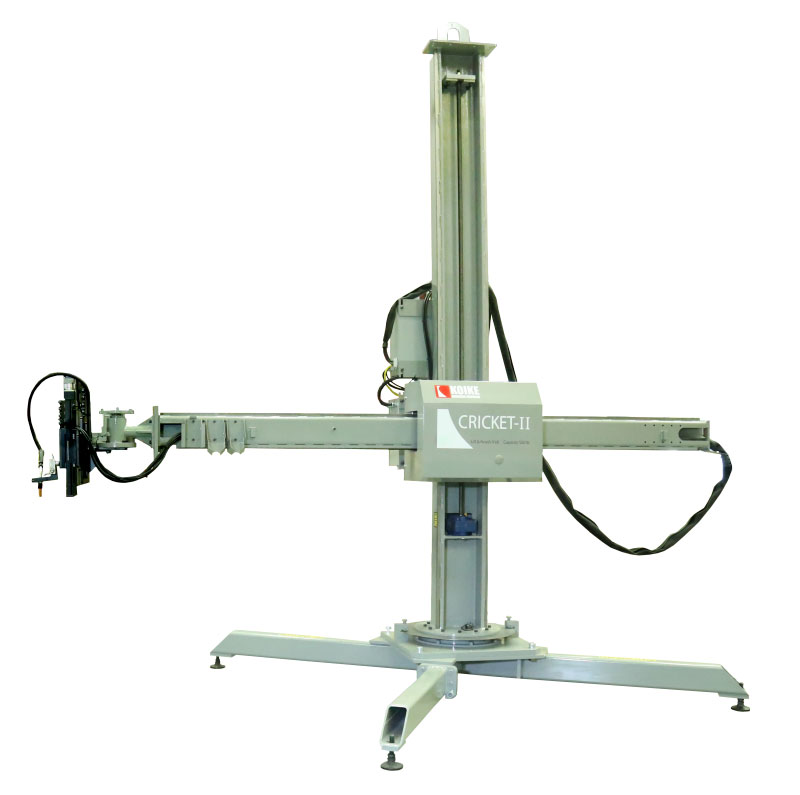 With a load capacity of 500 pounds, the Cricket-II can accommodate all welding processes. It also features CAM roller guidance and through-the-boom cable management. With NEMA-12 electrical enclosures, the Cricket-II is designed for safe operation indoors with built-in protection from foreign debris, dust and water infiltration. This new welding manipulator also comes with a mast rotation option, which allows the operator to swing the boom out of the work area or to work efficiently between two stations with one manipulator. Other options include travel cars, cross slides, digital speed controls and self-standing bases.
The Cricket-II is manufactured in the United States, allowing for accessible service, parts and support. Koike works collaboratively with their customers to find the right solution with customized machines and services. They offer a distinct advantage with in-house maintenance training at their headquarters in Arcade, NY.
ABOUT KOIKE
Koike Aronson Ransome is located in Arcade, NY, and is a proud supplier of advanced laser, waterjet, plasma and oxy-fuel cutting machines, welding positioning equipment, portable cutting/welding machines and gas apparatus (cutting and welding accessories). Koike backs their machines with superior, localized service and support to ensure outlasting performance for years to come. For more information, visit www.koike.com.