Michigan LED technology manufacturer LumaSmart is moving to a new nearly 40,000 square-foot industrial facility.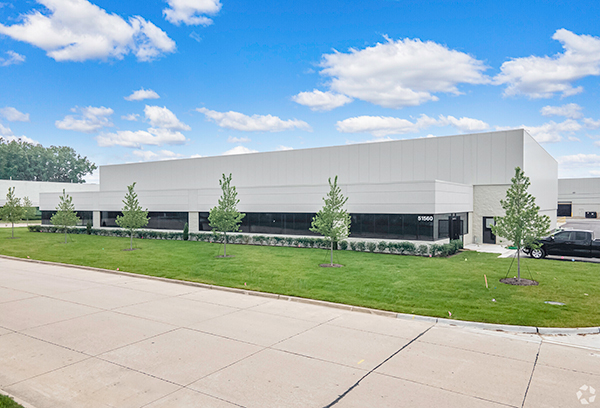 Shelby Township, Mich. – LumaSmart, an industry-leading custom electronics board manufacturer that specializes in LED and surface mount technologies, announced today that the company is moving to a new, build-to-suit 37,355 square-foot facility in Macomb County, Mich, less than two miles from LumaSmart's existing location. The seven-year lease was signed in March 2021 and the company plans to move in September 2021.
Located at 51560 Celeste Dr. in Shelby Township, Mich, LumaSmart's new home will allow the 15-year-old company to strategically expand its range of offerings and manufacturing capabilities. Specifically, the larger building's size and customization will help LumaSmart to increase assembly production by up to 50%, consolidate departments, implement new technology, and boost efficiency while delivering unparalleled client services and support. With plans to expand into the automotive and consumer electronics industries, moving to a larger facility also permits the company to modernize and launch new product offerings that are delivered in less time.
"LumaSmart's new location offers exactly what we need to meet our deliberate goals for expansion and the growing demands of the marketplace," says LumaSmart President Antonio Zucca. "To remain a leader in production-ready electronic components, we need a space that gives us the opportunity to reach new clients and offer an even higher level of efficiency and services, with the ability to manufacture any electronic component a client needs. The heightened flexibility and proficiency is going to fuel our growth for decades to come."
LumaSmart currently occupies two unconnected buildings with a total footprint of 27,000 square feet. Though close in proximity, the separate spaces diminish efficiency and workflow, while neither is large enough to properly accommodate the company's ever-increasing workload. By moving to a single building with over 10 thousand more square feet, plant operations can begin to incorporate new equipment and automation technology, while also consolidating teams and setting up a superior assembly-line workflow.
"From design and production, to getting products out the door, the new building will give us an ideal assembly flow to operate more efficiently than ever," says Plant Manager Carlo Ahee who has been with the company since 2014. "We have been lucky to experience some dramatic growth in recent years and while we have always been able to fully meet our client's needs, the addition of so much more space is a true game-changer. Not only will it benefit our clients, but the entire LumaSmart workforce."
Because the assembly lines are now longer, well-organized, and perfectly laid out, the number of shifts can be reduced from three to two, while still meeting the growing production goals and retaining all 75 employees. Upon move-in, the new facility will accommodate eight production lines on two shifts using the current equipment. But the company plans to increase the number to 12 lines with the addition of more machines, new technology, and more workers. Another benefit of the new building is a state-of-the-art climate control system to perfectly maintain the temperature and humidity levels. Also of great benefit to employees, the new home is less than two miles from the existing space and helps workers maintain their commute times.
Finding a new industrial space that met so many production needs, while still being in the same area, was no easy task for commercial real estate broker Joseph Kemp of CBRE. Macomb County is one of the most popular and rapidly growing industrial zones in Michigan, with several global corporations in nearby buildings including GM, General Dynamics, and Amazon. Vacancies are extremely limited and finding one that fulfilled LumaSmart's necessities was proving to be a challenge. Kemp introduced Zucca to a new construction opportunity that could perfectly meet LumaSmart's current needs while allowing for future expansion.
"The new building gives LumaSmart the room to design a custom space and meet their goals for the next decade- and more," says Kemp. "Having toured their current buildings and understanding what Antonio and his team needed, we knew that a new construction opportunity would be ideal. We worked with the landlord to negotiate construction costs and timing, while also securing tax abatements that made the new space fiscally accessible. It was the best opportunity for LumaSmart and one that their clients will quickly appreciate as well."
With this move, Zucca has his sights set on providing fresh opportunities for long-standing clients and connecting with new customers in additional technology sectors. LumaSmart has always been at the forefront of innovation, and now their facility is in line with that proud history.
"Sitting still has never been in our nature," adds Zucca. "Once it became apparent that the only thing that could hold us back was our building, we acted accordingly and made the decision to move on. Now, the gloves are off and I'm thrilled to show our clients what LumaSmart has in store for them tomorrow."
About LumaSmart
LumaSmart is a premier, custom electronics board manufacturer that specializes in LED and surface mount technologies. Headquartered in Macomb County, MI, LumaSmart manufactures electronic assemblies that include circuit boards, LED light engines, and complete fixture builds. In business since 2002, the company continuously strives to think and act innovatively by combining quality with the technology of the future. Using only the highest quality components from world-class suppliers, LumaSmart is recognized across the industry for incomparable attention to detail and customer service for clients in the automotive, industrial, manufacturing, architectural, and transportation industries.