Marquardt is expanding lighting for ambient atmosphere and wellbeing to include extra comfort, communication and safety toolsfor drivers.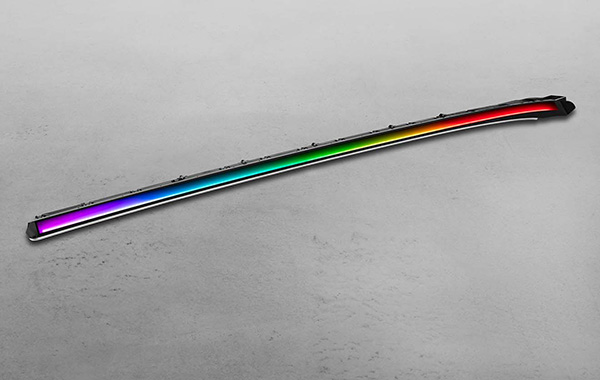 Dynamic Light as a source of information, control element and communicator
Upgrading of interiors for a higher sense of luxury and comfort
Functionality and real added value for cars, commercial vehicles and other means of transport – inside and out
Rietheim-Weilheim, Germany – New technologies are giving light additional significance in the automotive environment. Marquardt is expanding lighting for ambient atmosphere and wellbeing to include extra comfort, communication and safety functions for drivers, passengers and also for the environment outside vehicles: warnings in the interior and outside, precisely adjustable mood lighting, bidirectional communication with passengers and pedestrians, and advice to drivers for a more environmentally-friendly driving style. The "Dynamic Light" applications of the mechatronics specialist enable situation-related and individually controllable interaction.
React earlier to dangers with Marquardt Dynamic Light
Marquardt Dynamic Light enables clearer warnings for specific hazardous situations than previous light elements to facilitate the human brain's work in evaluating warnings. For example, section or pinpoint light signals can provide additional information to the driver. The vehicle quickly indicates that it is in a critical hazardous situation and reduces reaction times by valuable fractions of a second.
Examples of this are distance, collision and blind spot warnings that warn of approaching vehicles or bicycles when opening the door. There are no limits to the shape, size and location of the Dynamic Light elements: the door, the A-pillar, the exterior mirror.
Other possible uses for driving
In addition to accident prevention, Dynamic Light offers many other possible uses: from visualization of incoming messages and calls or active voice assistants to an extension of the classic mood lighting of the future "mobile living room" in autonomous driving mode and on to light-induced stress reduction or delaying of fatigue and loss of concentration at the wheel.
Communication between vehicle and environment
Outside the vehicle, the new applications of Dynamic Light goes far beyond design elements or status display during a battery charging process. In medical or acute technical emergencies, for example, running or flashing lights are feasible.
Light is also a communication factor in the flowing road traffic of the future: especially in the autonomous driving environment. A large part of the communication between one's own vehicle and outside road users will take place via visual signals. Whether we are talking about early announcement of driving maneuvers or signaling braking processes of varying intensity Dynamic Light enables situation-related communication through its technical properties. Even unregulated situations harbor scenarios for cooperation with other human or machine road users, for example, in the event of a traffic light failure, after an accident, in car parks, etc. Further, visual confirmation for pedestrians that they have been perceived by the vehicle is also a valid application.
Technical flexibility meets security by design
The central starting point of Marquardt technology is the possibility to control colors and light intensities individually and precisely.
Variable parameters such as LED spacing, light output, module geometry and length create an infinite number of options for model-specific component design, control and individualization. Dynamic Light enables applications that are technically impossible to implement with classic ambient light. Marquardt's Dynamic Light supports standard automotive interfaces and integrates into existing platforms, eliminating unwanted manipulation. Cybersecurity and ASIL requirements are part of the basic architecture and prevent unauthorized access: security by design.
Dynamic Light in new fields of application
Completely new operating concepts can also be planned throughout the vehicle and independent of large displays, if appropriate. Indication and control via touch-sensitive light strips of which heating or ventilation power is being used exactly where in the vehicle, and that directly where it is being used, without a central display – just one of many applications for the vehicle interior. This combination of Dynamic Light and touch is of interest to the market and has already been implemented in the Marquardt DemoCar.
Marquardt Dynamic Light allows car and commercial vehicle manufacturers, module suppliers and designers to give free rein to their creativity, even for environments without screens. From precise warnings in visibility-restricted driver's cabs to vehicle or seat-related applications in buses, trains and aircraft to special applications in non-standard vehicle construction.
Marquardt Dynamic Light as a central component in vehicle-driver communication
With its integration into driving and driver assistance systems, functional light is emerging as one of the future standards in automotive development. Using intelligent lighting concepts, manufacturers can develop their branding inside and outside the vehicle, while adding comfort, safety, additional operational benefits and individuality.
Further information:
https://www.marquardt.com/us/dynamic-light/
About Marquardt
Marquardt, a family-run company founded in 1925 and based in Rietheim-Weilheim, Germany, is one of the world's leading manufacturers of electromechanical and electronic switches and switching systems. The products of the mechatronics expert are used by many well-known customers in the automotive industry and include operating components, vehicle access, driver authorization systems and battery management systems. The company's systems are also used in household appliances, industrial applications and power tools. Marquardt Group employs approximately 10,600 members of staff worldwide at 20 locations in four continents. The company generated 1.2 billion euros sales revenue in the fiscal year 2020. Each year, Marquardt invests around ten percent of its revenues in research & development.
You can find further press information and pictures at:
https://www.marquardt.com/us/.
Why not also visit our social media channels?
LinkedIn: https://de.linkedin.com/company/marquardt-group
Twitter: @Marquardt_Group
Facebook: https://www.facebook.com/Marquardt.Group/
Instagram: www.instagram.com/marquardt_group/