Marquardt makes your vehicle key as smart as your cell phone by turning your phone into a universal key.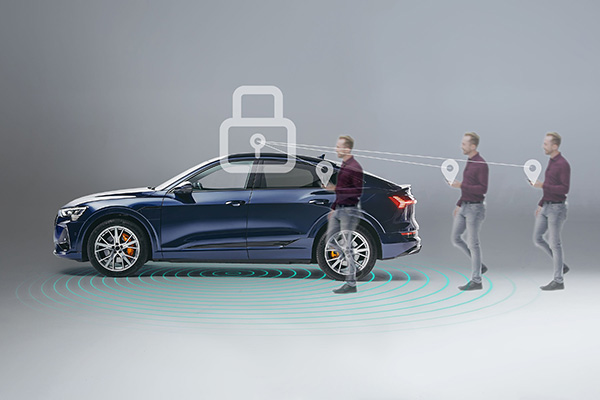 PnD3 platform from Marquardt makes smartphone-based access suitable for mass use in passenger cars and commercial vehicles
Cyber-secure integration of smartphones using a digital key
High level of flexibility with UWB, NFC, and BLE
Rietheim-Weilheim, Germany – Marquardt makes your vehicle key as smart as your cell phone by turning your phone into a universal key. The mechatronics specialist's drive authorization system, called PnD3, combines the latest ultra-wideband technology (UWB) with near-field communication (NFC), as well as Bluetooth Low Energy (BLE) and is ready for series production. The PnD3 seamlessly closes the gap between a smartphone and the drive authorization system (DAS). Vehicle manufacturers will receive a highly flexible, modular solution for different vehicle types. It is compatible with other Marquardt components, so it can form a complete solution from a single source. Secure transfer of the digital key also opens up new possibilities for fleet managers, car-sharing providers, and car rental companies.
Into the future with PnD3
The flexible PnD3 architecture provides a modular scope from simple to highly complex utilizations, both for passenger and commercial vehicles. Marquardt is making cell phone-based Keyless Go technology affordable and suitable for the masses. In addition to the standard configuration, the number of UWB modules varies, and the options for NFC and BLE functionality are selectable too. The software development kit (SDK) allows smartphone applications to be adapted to the vehicle manufacturer's design. Marquardt offers the central, easy-to-integrate control unit (ECU) in a scalable and compact design; including, a waterproof version designed specifically for commercial vehicles. Other compatible components are immobilizers, door handle sensors, and electric vehicle charging flaps.
Focusing on safety and user benefits
Security against hackers was a primary focus while designing the PnD3 platform. The core of the PnD3 is the new ultra-wideband technology which adheres to the Car Connectivity Consortium (CCC) standard. Apple and other smartphone manufacturers began supporting the industry standard in 2019. It enables cyber-secure storage of the digital vehicle key in the smartphone – and opens up brand-new potential applications in combination with the precise UWB driver localization.
"We invested in UWB technology early on, so we have very profound expertise," explained Wolfgang Stehle, Head of Marquardt's Entry and Authorization Systems Product Segment. "So, with a smaller number of UWB modules on the vehicle, we achieve more secure and swifter localization of the smartphone near the vehicle thanks to our algorithm. And the complete compatibility of all our components results in perfectly synchronized processes – even in critical situations." As a TIER1 supplier, Marquardt has many years of expertise in car access systems. Marquardt introduced the first Keyless Go system in 2001 and unveiled the first secure UWB system in 2019.
The standard of the future: digital key sharing
With the integration of the smartphone and driving authorization systems, gestures can be recognized with the help of UWB technology. Windows, doors, or the trunk could open without the use of additional sensors. "The ability to digitally share the digital key simply but securely via 'key sharing' also provides quick assistance in the event of a lost key – it significantly simplifies the process of handing over and returning vehicles for car rental companies or fleet managers," remarked Jörg Fischer, Global Product Line Manager Smart Access. In addition, delivery services could place ordered goods directly in the vehicle. The first vehicles with the new PnD3 system are scheduled for delivery in 2022. Series production at Marquardt started at the end of 2020.