Marquardt developed and launched its most reliable weather-resistant sensor for automotive door handles.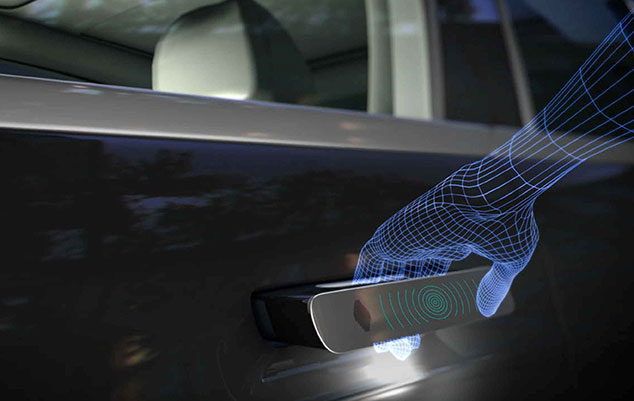 ROCHESTER HILLS, Mich. – What good is a keyless system if it doesn't work reliably? That's the question many angry vehicle owners ask themselves when their door handle sensor fails to grant them access into their cars because precipitation has caused the system to glitch – yet again.
The human body and water have the same effect on capacitance, which has the tendency to render conventional passive entry door handle sensors faulty when precipitation is present. If the capacitive door handle becomes wet or icy, the sensor will detect a change in capacitance similar to that of a finger, which can lead to malfunctions, including false activation.
Marquardt Switches, a global supplier of electro-mechanical switching systems, has developed its most-reliable door handle solution, which doesn't become triggered by undesirable environmental influences. Unlike many other handle sensors on the market, Marquardt's S³ technology proved its durability and reliability even when tested in circumstances comparable to a seasonal monsoon in India.
While traditional capacitive sensors measure changes in capacitance, Marquardt's Superior Sensor Solution (S³) responds to approach by analyzing the origin of the change and adjusting the response accordingly. Marquardt's algorithm considers differences between resistance and capacitance and can therefore, filter out different environmental factors.
The S³ sensor can fit under any closed surface, including plastic, tile, wood or leather with optional puddle or pocket lighting. The technology's modular design won't disturb the vehicle's aesthetics and opens the possibility for multiple use-cases.
Marquardt's Johannes Mattes, a lead engineer responsible for the technical development of the S³ system, explained how the sensor can be developed for other applications within the vehicle.
"The technology is not limited to door handles," Mattes explained. "The sensor can be implemented into the fuel tank cap, trunk, bonnet and/or the keypad panel on the B-pillar. S3 is a reliable option wherever touch solutions are possible and water penetration is inevitable."
Additional Information:
By means of high-range NFC detection that's compatible with iOS and/or Android devices, users can also open and close the vehicle door using their smartphones. The NFC system can be updated by means of flashing in order to adapt the technology to the latest generation of smartphones.
The door handle's dual-sensor architecture incorporates up to three capacitive sensor surfaces for measuring changes in capacitance. It can be connected to on-board vehicle electronics via interfaces for LIN X.X. and CAN 2.0/FD.
About Marquardt Switches, Inc.:
Marquardt, a family-owned mechatronics expert based in Germany for 95 flourishing years, employs over 10,500 employees within its 20 global locations – two of which are located in the U.S. Since being founded, Marquardt has expanded its capabilities beyond the conventional flip of a switch or push of a button. Its forward-thinking approach has classified Marquardt as a leading global supplier for the automotive, truck, off-road, power tool, industrial application, and domestic goods business sectors. Its range of products span from operating components, vehicle access, and driver-authorization systems, to lighting and battery management solutions.
The company generated over 1.3 billion Euro in sales revenue in fiscal year 2019. Every year, Marquardt invests around 10% of its revenue back into research and development.
For more information about Marquardt U.S.A, visit us.marquardt.com.
Visit our social media channels:
Facebook: https://www.facebook.com/Marquardt.Switches.NA
https://www.linkedin.com/company/marquardt-switches