Protect your workforce from hazardous exposure with Casella's new air sampling offer.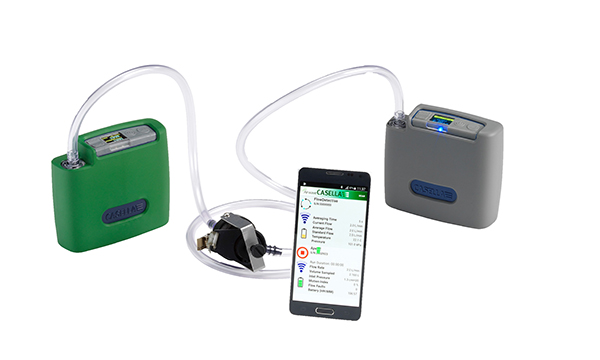 It is estimated that every 30 seconds, somewhere in the world, one worker dies as a result of exposure to hazardous substances.1 It is an employer's duty to protect employee health through surveillance and exposure monitoring.2 Global workplace hazard monitoring expert Casella is offering a free Flow Detective™ Plus calibrator with the purchase of its VAPex Pro or Apex2 Plus/Pro kits to improve air sampling accuracy and traceability and, ultimately, keep the workforce safe.
The Flow Detective™ Plus is an electronic air flow meter calibrator, designed to measure the flow of air sampling pumps to within 2% accuracy. This robust solution can calibrate within airflows of 20mL/min to 5,000 mL/min to ensure correct flow. Compatible with Casella's pioneering Airwave App and Bluetooth connectivity, calibration results can be sent via email, ensuring improved traceability and pump calibration procedures.
As well as detecting air flow, the Flow Detective™ Plus was the first calibrator on the market capable of measuring pulsation, indicating if the air flow pulsation exceeds 10% for true confidence in the integrity of samples. When used with the Casella Apex2 or VAPex air sampling pumps, the Flow Detective™ Plus can achieve closed-loop automatic calibration, eliminating manual input, drastically saving time when calibrating pumps.
VAPex Pro
Designed for the low flow sampling of vapours and gases in working environments, with a wide flow range of 20mL-500mL/min, the VAPex personal sampling pump has outstanding back pressure capability.
Apex2 Plus/Pro
For flows up to 5L/min, the Apex2 medium flow air sampling pump is built to monitor workplace dust levels to help protect workers from long latency health problems resulting from occupational exposures.
Until September 30th 2021, any customer who purchases the VAPex Pro or Apex2 Plus/Pro air sampling pump kits will receive the Flow Detective™ Plus air flow calibrator free of charge.
"Electronic flow meters can provide a more accurate and traceable alternative to rotameters when used in the field," says Tim Turney, Casella's Global Marketing Manager. "We are in a position to provide quick delivery across our range of products and, with worker health in mind, our customers can be assured they will have the products they need to keep people safe on site as quickly as possible."
Casella is dedicated to reducing occupational health and environmental risks, and helping businesses solve their monitoring and analysis needs. For more information about the Flow Detective and Casella's air sampling monitoring solutions visit, www.casellasolutions.com
About Casella
Casella is dedicated to reducing environmental and occupational health risks by developing equipment and technology for dust, noise and vibration monitoring.
Casella's core purpose is to create technology aimed at improving the working environment of employees, while providing robust data and equipment platforms to enable organisations to remain compliant with health and safety regulations. The company is an expert in the integration of sensor technology and data management systems that further improve productivity and overall safety in the workplace. Casella's range of instrumentation includes real-time dust monitors, personal sampling pumps, sound level meters, personal dosimeters, hand-arm vibration and boundary/fence-line monitors. Casella is a global business, part of the IDEAL Industries Inc. group of companies, with offices in the UK, US, Australia, China and India.
The company has provided precision instrumentation since 1799 and supplied eminent figures, including Charles Darwin, with instrumentation for exploration and scientific work. Casella works with a network of specialist distributors to provide local service and client support to those searching out solutions for risk reduction and management.
For additional information:
Please contact Michaela Madgwick
Houston
Tel: 01483 414751
Email: mmadgwick@houston.co.uk
[1] https://chemicalwatch.com/70252/worker-exposure-to-hazardous-chemicals-is-a-global-health-crisis