New Bosch Rexroth store makes it easier for design engineers to get work done.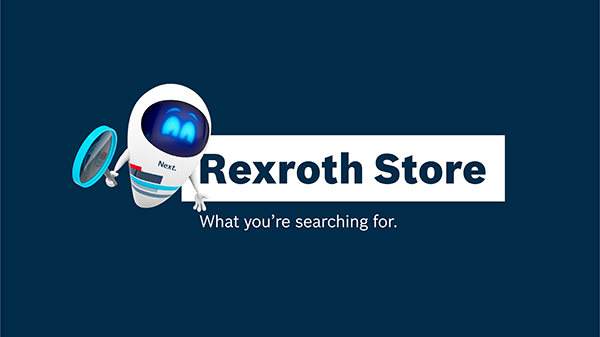 The customized online experience provides easy access to product and account information, CAD files, and the ability to verify system designs with Rexroth product engineers.
The Rexroth Store offers design engineers a one-stop solution to design complete systems, manage projects and access account information.
Bosch Rexroth's new e-commerce portal allows design engineers to find everything they need to build complete systems to exacting specifications with authorized Bosch Rexroth products. The online destination, inspired by consumer shopping sites, streamlines the specification and ordering process with easy CAD file downloads, detailed product information, filter and comparison tools, live chat with product engineers, track orders, billing, and manage accounts online.
With just a few clicks, users are guided through product selection, comparison tools, and complete technical information to quickly discern their needs from a variety of portfolio options. The Rexroth Store also provides pricing and estimated product lead times.
Through the site's customized online experience, customers can access solutions ranging from motion control systems to radial piston motors to profiled rail systems. The Rexroth Store provides access to the full product portfolio, the only single-source supplier with solutions for anything a design engineer needs.
The Rexroth Store live chat feature enables customers to connect directly to Bosch Rexroth product engineers to discuss projects, learn about new components, or even pair on a solution.
In addition, the site provides an autonomous way to manage projects, accessing essential account information from anywhere at any time. Users can track orders and invoices, view order history and account pricing, create a wish list and make fast credit card purchases through the guest buy feature.
"The business to business e-commerce experience is becoming more personalized every day," said Mike Hams, vice president of sales at Bosch Rexroth. "Our new Rexroth Store is a natural extension of our ongoing commitment to ensure our customers have an experience catered to their needs and enables them to be more efficient."
The Rexroth Store provides several key features that enhance the design engineer's online experience, including:
Guided selection
Product details, including technical specifications, documents and spare parts
Lead time information
Customized account pricing
CAD downloads
Live technical support
Order tracking, plus account activity and history
Updates based upon user feedback and interest
For more information, visit https://www.boschrexroth.com/en/us/buy/rexroth-store/index
About Bosch Rexroth:
As one of the world's leading suppliers of drive and control technologies, Bosch Rexroth ensures efficient, powerful and safe movement in machines and systems of any size. The company bundles global application experience in the market segments of Mobile Applications, Machinery Applications and Engineering, and Factory Automation. With its intelligent components, customized system solutions and services, Bosch Rexroth is creating the necessary environment for fully connected applications. Bosch Rexroth offers its customers hydraulics, electric drive and control technology, gear technology and linear motion and assembly technology, including software and interfaces to the Internet of Things. With locations in over 80 countries, more than 29,600 associates generated sales revenue of around 5.2 billion euros ($6.3 billion) in 2020.
To learn more, please visit www.boschrexroth-us.com.
About Bosch:
Having established a regional presence in 1906 in North America, the Bosch Group employs 34,700 associates in more than 100 locations, as of December 31, 2020. According to preliminary figures, Bosch generated consolidated sales of $13.1 billion in the U.S., Canada and Mexico. For more information, visit www.bosch.us, www.bosch.ca and www.bosch.mx.
The Bosch Group is a leading global supplier of technology and services. It employs roughly 394,500 associates worldwide (as of December 31, 2020). According to preliminary figures, the company generated sales of $87.1 billion in 2020. Its operations are divided into four business sectors: Mobility Solutions, Industrial Technology, Consumer Goods, and Energy and Building Technology. As a leading IoT provider, Bosch offers innovative solutions for smart homes, Industry 4.0, and connected mobility. Bosch is pursuing a vision of mobility that is sustainable, safe, and exciting. It uses its expertise in sensor technology, software, and services, as well as its own IoT cloud, to offer its customers connected, cross-domain solutions from a single source. The Bosch Group's strategic objective is to facilitate connected living with products and solutions that either contain artificial intelligence (AI) or have been developed or manufactured with its help. Bosch improves quality of life worldwide with products and services that are innovative and spark enthusiasm. In short, Bosch creates technology that is "Invented for life." The Bosch Group comprises Robert Bosch GmbH and its roughly 440 subsidiary and regional companies in 60 countries. Including sales and service partners, Bosch's global manufacturing, engineering, and sales network covers nearly every country in the world. The basis for the company's future growth is its innovative strength. At 126 locations across the globe, Bosch employs some 73,000 associates in research and development, as well as roughly 30,000 software engineers.
Additional information is available online at www.bosch.us, www.iot.bosch.com, https://us.bosch-press.com/, https://twitter.com/BoschPress