The KSCAN Magic is the latest in 3D portable scanning technology. Its capabilities make it the ideal tool for a variety of industry sectors.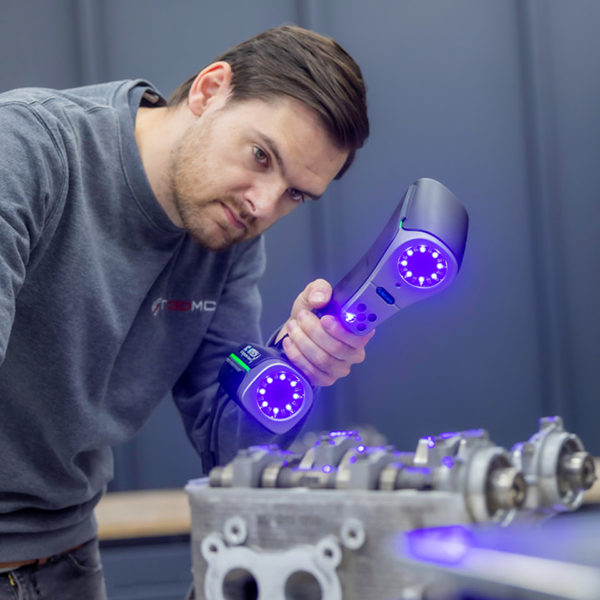 The 3D Measurement Company Ltd (T3DMC) is proud to announce the launch of the KSCAN Magic 3D portable scanner from ScanTech to the UK market. Building on the huge success of the previous KSCAN series, the KSCAN Magic delivers improved precision along with improved speed and is the ultimate in scanning performance.
Equipped with 41 laser lines, the KSCAN Magic boasts rapid scanning speeds of up to 1.6 million measurements per second. In addition, thanks to the completely unique infrared measurement mode with an incredible 1.4m scanning window and 950mm depth of field, the KSCAN Magic can be used for a wide range of applications where speed of capture and accuracy are at the heart of everything.
Flexibility is a core focus of the KSCAN technology and the Magic covers all bases with a remarkable five individual measurement modes; 22 crossed blue lasers, 7 parallel lines for fine detail scanning on small parts, a single laser for deep pockets and 12 infrared parallel lasers and built-in photogrammetry capabilities specifically aimed at high accuracy for extra large parts.
In terms of scanning performance, the KSCAN Magic delivers unparalleled scanning speeds of up to 1.6 million measurements/s, an accuracy of up to 0.020 mm and resolution capability of 0.01mm. What's more, the new 3D scanners help optimise each part of the scanning process; time spent scanning, time spent preparing parts and cost of consumables are all greatly reduced.
As an additional option, the KSCAN Magic can be fitted with a portable CMM probe with point repeatability of 0.03mm. This probing function allows users to measure holes, hidden points and hard to access features.
"The KSCAN Magic range is best in class when it comes to speed, accuracy and adaptability", said Adam Stanley, managing director at T3DMC. "The KSCAN Magic comes with a wealth of easy-to-use functions, all packed in a user-friendly and portable design. We believe that it will prove to be a truly transformative measurement tool for industry sectors such as automotive, manufacturing, castings and foundries, aerospace and many more where the demand for flexible inspection capabilities is growing more and more!"