Funding will be used to empower a new breed of developer and address the next wave of enterprise digital transformation.
Atlanta, GA – Betty Blocks, a leading enterprise no-code application development platform for citizen development, announced today it has raised $33 million in funding. The round was led by European Private Equity and Venture Capital investor SmartFin Capital. Also participating were existing investors Morse Investments and NIBC Bank.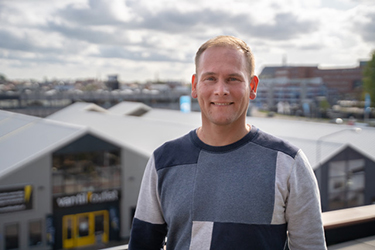 "We're on a mission to unlock the potential of all those new-breed citizen developers within enterprises who really want to get more control over their software needs, and to provide IT departments with more control while doing so. All offered on our powerful cloud-native platform, offering the best possible customer experience," said Chris Obdam, CEO of Betty Blocks. "This additional funding is a huge milestone for Betty Blocks in proving the success of our company in this very interesting and fast-growing market."
Betty Blocks enables fusion teams – people from the business-side and IT – to quickly build software together in order to speed up innovation and improve time-to-market. Betty Blocks' customers include industry leaders such as The Dutch National Police, Clifford Chance, TaskUs, and Anglian Water.
SmartFin Capital led the round, combined with current investor Morse Investments, and joined by NIBC Bank, providing funding via their structured finance offering. SmartFin Capital founding partner, Bart Luyten, will join the investor committee.
"We're excited to lead Betty Blocks' next round of funding and help them on their path to conquer the no-code for citizen development market. Low code has been one of the top priorities for our company. No-code for enterprises will be a significant part of the overall software development market and we see Betty Blocks in pole position to become the leading player," said Luyten.
Betty Blocks plans to use the funding to expand its operations and further develop the platform. Plans include making the platform even easier to use, enhancing the citizen development governance features, introducing more templates, and enriching its Block Store with more standard integrations.
Founded in 2016, the Betty Blocks platform helps IT and the business side work together to build business-critical applications. Recognized by industry analysts for its versatility and ease of use, the Betty Blocks platform is well suited to enterprises that are looking to speed up application development by empowering a new breed of developer. These business developers (or citizen developers) are employees that do not necessarily have programming knowledge but understand processes and data. With the help and assistance of IT, they build software solutions that immediately impact their work and the organization's bottom line in a secure, sustainable, and governed way.
"Having experienced the first wave of low-code personally, I see the next big wave happening in enterprise no-code. Betty Blocks has the platform and the track record to lead this wave and I'm pleased to help them with this round," said Roel de Hoop, partner of Morse Investments.
By radically changing the approach to software development, enterprises are more agile, improve competitive value, and increase employee engagement. New-breed developers use templates and no-code building blocks to build apps without coding, connect apps to the existing enterprise application landscape, and provide the IT department with more control over shadow IT.
"Innovation and supporting our clients at decisive moments is in the DNA of our bank so we are very happy to continue our partnership with Betty Blocks. Supporting Betty Blocks with an innovative new banking product is an important step for us," said Jeroen Conijn, Head of FinTech, Mobility & Structured Finance with NIBC Bank.
"Digital transformation has only become more important during the Covid-19 pandemic, and as one of the world's leading law firms we use Betty Blocks to innovate faster and to engage with new generations of lawyer developers," said Paul Greenwood, CIO for Clifford Chance. "Over the past few years, we have built dozens of applications with Betty Blocks to help keep our competitive edge."
For more information or to request a demo, please visit www.bettyblocks.com
ABOUT BETTY BLOCKS
Betty Blocks is an enterprise no-code application development platform for citizen development that enables enterprises to innovate faster by introducing a new breed of developer. Betty Blocks is built for enterprises who want to allow more people to join the software development process, all in an IT-approved and governed way. Betty Blocks is used by industry leaders such as Clifford Chance, TaskUs, and Anglian Water. With offices in Alkmaar (NL) and Atlanta (US), Betty Blocks is backed by SmartFin Capital, Morse Investments, and NIBC Bank.