We are pleased to announce the launch of PDF generator on DronaHQ no-code app dev platform allowing users to create custom PDF templates.
Once the user has built their app, be it for data collection, inspection, order placement, invoice generation, a dashboard that integrates with other apps, the next step is usually to send a concise report to the stakeholders. The traditional approach would be to manually feed some key information into a document and print it out or send an email or connect to a third party system to dynamically generate these reports. This approach can be time-consuming and connecting to third-party tools can bear additional costs. But, with DronaHQ's PDF creator, you get built-in tools to design custom PDF reports that can be populated dynamically. The last thing you want to spend your precious development time on is licensing the proper libraries and learning APIs to create a word or PDF file.
A great example of where the PDF creator can come in handy is for Invoice Generation. For instances like order collection or bill clearance, you would like to send an invoice to your customer. In the PDF creator, you can lay down the template, the tables, the branding, along with the variable fields that will hold the order details like the customer name, order quantity, total price. Upon the trigger of a workflow, the variable fields in the PDF will get populated just like your database would. You can then send this invoice automatically to your customer's inbox.
"With this, we want to present drag and drop document automation software to allow our customers streamline the creation of custom PDF reports, automate PDF generation, along with their branding elements and e-signatures," says CEO Divyesh Kharade. "Professional looking reports, invoices, proposals, sales quotes, contracts, itineraries, test reports, you name it!"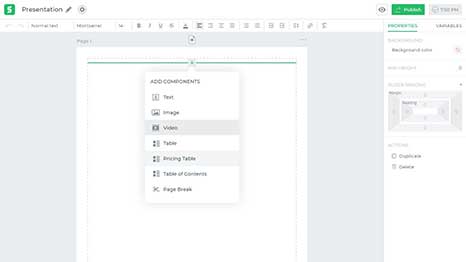 The steps with DronaHQ's PDF Creator are simple:
Create a template – add, edit, duplicate or delete input fields and tables, visual elements
Set up workflow automation – map out the pdf variables to be populated from your application
Get the document –
receive the PDF document that can be stored on your device or emailed to the stakeholders, upload to Google Drive, send as an attachment on Slack, Trello, Print it
It is now easy to create and send personalized reports out the door fast. The PDF creator is set to launch in July 2020. For inquiries or more information on custom report generation, data collection or automation using no-code, chat with us.
About DronaHQ: DronaHQ is a No-code App development SaaS platform for building business apps (Mobile & Web) and automating business process operations for SMB, Enterprises, Business Units & IT Depts. Offering compelling development productivity gains, speed of delivery of apps while ensuring rich end-user experience. 1 million+ users of Apps built on the platform, 3000+ enterprise-grade apps. ISO 27001, SOC II certified. Presence in Mumbai, Bengaluru, SFO, London.
Website: www.dronahq.com