The FIPLOCK® ONE corrugated pipe connector from FIP, the only one of its kind in cable protection, fits all IP protection classes.
One fits all: The FIPLOCK® ONE corrugated pipe connector from the Ger- man manufacturer FRÄNKISCHE Industrial Pipes (FIP), the only one of its kind in cable protection, fits all IP protection classes. The extensive range of connectors includes cable protection products in different angles and with different thread types made of plastic or metal. These can be used, for example, in industrial plant and tool construction, energy plants and railroad technology. The FIPLOCK® pipes and all but one of the FIPLOCK® ONE connectors have UL1696 approval, which is mandatory for exports to North America.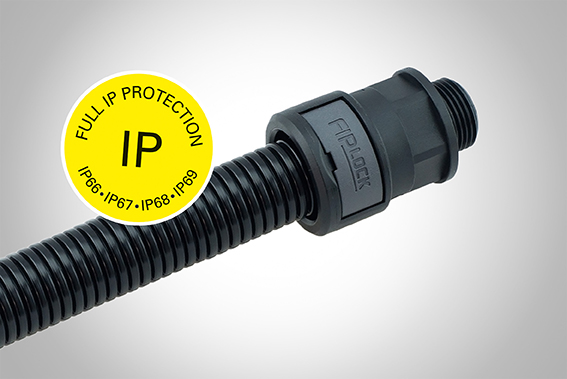 The high-quality corrugated pipe connection simplifies connection technology: Whereas different corrugated pipe connections were previously required for the various IP protec- tion classes in industrial use, FIPLOCK ONE now combines all protection class require- ments in one product.
"Our range of corrugated pipe connections for each IP protection, which is unique on the market to date, simplifies product selection, saves storage costs and reduces the handling effort required by the end customer. One fits all – this guarantees high cost-effectiveness and minimizes sources of error as early as the application specification stage," explains Andy Girola, Managing Director International at FRÄNKISCHE Cable Management AG.
The FIPLOCK ONE fittings from the FIPSYSTEMS cable protection program allows many connection variants in industrial, plant and tool construction, ener- gy plants, railroad technology and other areas of application.
Broad FIPLOCK ONE portfolio
The FIPLOCK ONE product line includes a wide range of straight fittings, fittings at 45° angles and at 90° bends, as well as fittings for strain relief and with inter- nal threads. All thread variants are available in plastic and metal versions, and with various connections. T- and Y-distributors as well as the T-adapter allow individually adapted and flexible pipe routing.
The ARPA pipe reducer enables transitions to smaller nominal diameters, and the AIPA pipe connector connects smooth metric or armored pipes with flexible corrugated pipes. All FIPLOCK ONE components, in conjunction with FIP standard corrugated pipes, meet the requirements of protection classes IP66 to IP69.
Simple push-in installation – lasting safety
FIPLOCK ONE connects FIPLOCK corrugated pipes with fine and coarse pro- files from NW 7 to NW 48 reliably and permanently tightly together. The ready- to-assemble fittings made of specially formulated polyamide 6 stand for maxi- mum safety in use: The corrugated pipe is pushed into the preassembled adapter with a slight twisting motion. When the tube is at the stop, a safe and reliable connection is made in all IP protection classes. If necessary, the as- sembled unit can be opened again using a standard slotted screwdriver, and the fitting can then be used again.
The pre-installed seal in the fitting body ensures the highest IP protection rating on a permanent basis, even in demanding environments, tight installation situa- tions and when the pipes are subjected to dynamic loads. FIPLOCK ONE is characterized by high weather resistance as well as impact and tear-out re- sistance. In addition, the connection range meets the highest fire protection standards.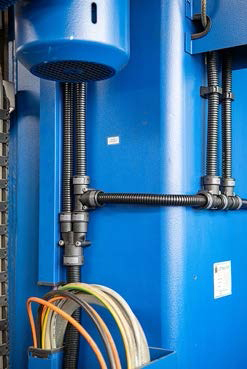 Ready for global market access
FRÄNKISCHE Industrial Pipes' standard corrugated pipes and corrugated pipe connection are well prepared for the international market.
"The FIPLOCK pipes and all but one of the FIPLOCK ONE connectors already have UL1696 approval, which is man- datory for exports to North America, for example. We are working on extending certification to the complete FIPLOCK range for global market access," explains Andy Girola.
FIPSYSTEMS: Cable protection for every challenge
Under the motto "We simplify your world", FRÄNKISCHE Industrial Pipes offers solutions for every challenge in industrial cable protection in the FIPSYSTEMS range. In addition to FIPLOCK standard corrugated pipes and the FIPLOCK ONE corrugated pipe connections, FIPSYSTEMS also includes FIPHEAT high-temperature corrugated pipes. The corrugated tubes of the FIPMOTION range are highly dynamic, and the divisible corrugated tubes FIPSPLIT plus fittings and accessories are ideally suited for retrofitting cable protection. The FIPJACK range includes textile protective conduits, FIPMETAL metal protective conduits, and FIPSPECIALS conceals special solutions that are tailor-made to meet individual customer requirements.
"The FIPSYSTEMS range is ideally suited to a wide variety of applications in industrial cable protection. With the different corrugated tubes, FIP customers flexibly guide cables and wires and protect them effectively. Using the accesso- ries, they adapt the tubes securely and lay them neatly on the equipment," says Andy Girola.
For more information, see www.fipsystems.com
About FRÄNKISCHE Industrial Pipes
FRÄNKISCHE Industrial Pipes, headquartered in German Königsberg, spe- cializes in top-quality corrugated tubes and conduits, corrugated tube sys- tems, corrugated conduit systems and protective hoses for cable protection and fluid systems in the field of industrial and automotive applications. Stand- ard products and customized systems are manufactured on 280,000 sqm of production area in Germany, Switzerland, the Czech Republic, Romania, Tunisia, Morocco, China, Mexico and the USA (South Carolina, Michigan). They are typically used for automobiles and utility vehicles, railroad engineering, in sanitary and swimming pool engineering, major appliances, air ducting sys- tems, industry, home appliances, plant and tool engineering as well as in geo- thermal and solar energy systems.
Further information:
FRÄNKISCHE Industrial Pipes
GmbH & Co. KG
Hellinger Str. 1
97486 Königsberg
Germany
Phone: +49 9525 88-8086
Fax: +49 9525 88-155
sales@fraenkische-ip.com
www.fipsystems.com
Press contact:
FRÄNKISCHE USA, LP
Kevin Keilman
Phone: +1 864-328-0021
kevin.keilman@fraenkische-usa.com
WEIGANG PRO GmbH
Nicole Stadtmüller
Beethovenstraße 1a
97080 Würzburg
Germany
Phone: +49 931 35515-41
nst@weigang-pro.de
www.weigang-pro.de