OneCharge has named David Suarez as the Western Regional Vice President, reporting to Mark D'Amato, Vice President of Sales.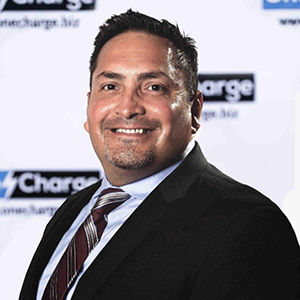 Irvine, CA – OneCharge Inc., a major USA provider of lithium batteries for the material handling industry, announced today that it has appointed David Suarez as the Western Regional Vice President.
OneCharge has named David Suarez as the Western Regional Vice President, reporting to Mark D'Amato, Vice President of Sales. He comes to OneCharge with more than 20 years of experience in mobile power across numerous industries, including underground mining, energy storage, and telecom, among others. Before joining the OneCharge team, Suarez held sales and sales leadership roles with companies such as Interstate Batteries, EnerSys, Voltabox of North America and recently Green Cubes Technology.
"I am excited to work with the leadership team on driving clean, safe, and efficient solutions to the markets we serve,"- says Mr. Suarez.
"The culture aligns with the mission here at OneCharge. Manufacture the best product, provide the best customer experience, all while delivering efficient and clean solutions. Through innovative tools and best-in-class engineering, we are doing our part to accelerate the adoption of lithium-ion."
Tim Karimov, President at OneCharge, says: "We are very happy to have David on board. His expertise and personal energy are a good fit for the team and business. Creation of this role is an important step forward for the company development strategy."
About OneCharge Inc.
OneCharge is one of the largest developers, manufacturers, and integrators of lithium-ion batteries for lift trucks in the United States. The company sells large quantities of industrial batteries for warehouse equipment. It successfully collaborates with several OEM market leaders.
The company aims to commercialize lithium-ion battery technology, creating easy and ready-to-use solutions for a wide range of industrial clients. The model range at OneCharge counts over 600 and is growing.
OneCharge acts as a 'change ambassador' in relation to new technologies implementation. The company is continuously investing in technological development that reduces the cost of the product while improving its operational characteristics. New developments are quickly implemented in manufacturing and are gradually becoming the new benchmarks on the market.
The company ensures that the maintenance of its batteries is as simple as possible. It has developed a special modular system that allows streamlining of the service department training to accelerate the lithium batteries' acceptance on the market.
For more information on how to partner with OneCharge please contact Mark D'Amato via email at m.damato@onecharge.biz or call him at (408) 582-3889. For more information on OneCharge Inc. please visit www.onecharge.biz.