Top reasons to choose Power BI as a business intelligence solution.
If you are reading this article, you might know the revolutionary business intelligence tool. Yes, it's Power BI.
Well! It is one of the most efficient business intelligence tools used by the people to aggregate, share, visualize, and analyze the data without putting extra effort and time. It's easy to use interface allows the users to create reports and access the dashboard without any hassle.
Indeed, there are various business intelligence tools available in the market, but nowadays, Power BI is one of the commonly used tools that help organizations to make complex business decisions.
There are many reasons for choosing this great tool over others. Getting excited?
Need not fret! In this article, I will make you familiar with some competencies of Microsoft Power BI tool that makes it the best.
Now, without any further discussions, let's know why it is becoming the topmost priority of the companies.
Why Power BI- 8 Major Advantages
Let's get started….
#1- Quickly Analyze Data Trends
If you are pondering over a tool that helps you analyze the data for quick insight, then without any second thought choose Power BI. Data analysis is one of the most compelling advantages of Power BI. It's impressive compression abilities gain a unique insight into a huge quantity of data, which I think is really challenging in others.
No matter whether your data is located locally or in the cloud, you can quickly access it without wasting time. Moreover, your customers will get a 360-degree view that will help you build better relationships.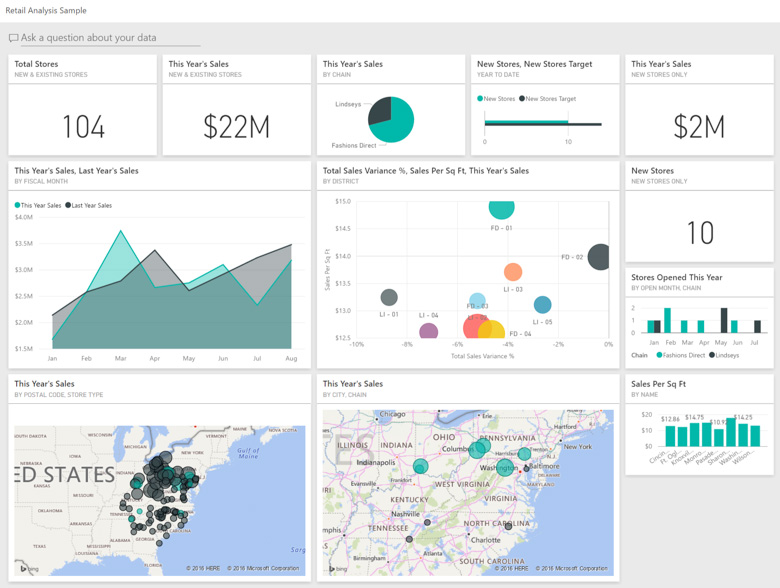 Power BI not only helps you to analyze the data but also assists in data modification and preparation, including
Edit and transform data like deleting rows, changing formats, modifying data, etc.
Addition and linking of new datasets
Add tabular relationships, etc.
So, if you want to explore and search large amounts of data, start using Power BI.
#2- Easy to Integrate with Existing Applications
Seamless integration is another advantage that compel the users to choose Power BI over others. It allows the users to adopt reporting and analytic capabilities because the integration of Power BI with the current business environment is easy.
Anyone can embed interactive visuals in the application without any assistance as Microsoft is working consistently to expand the system compatibility, which further enables the users to expand the datasets.
So, if you want a tool that offers unlimited integration features with the existing applications/third party applications, then start availing the benefits of Power BI.
#4- Store Unlimited data
Have you ever thought of storing all the files that are thoroughly analyzed and connected using limited space? Seems like an impossible task?
Well! Power BI makes it possible. It uses powerful compression algorithms that help to store and cache the data in the form of.PBIX file. Now, you don't have to cut down the large data sets as power BI can store unlimited files in compressed form.
Basically, Power BI tools are highly compressed and performant. It uses modern tabular database technologies that allow the organizations to store large amounts of data in highly compressed form for rapid performance. Power BI can compress 1 GB database to 85MB – 170MB. Isn't it amazing?
Well! To believe the same, you need to experience this fantastic tool- Power BI.
To have in depth understanding about Power BI, explore Beginners Guide to Power BI.
#5- Easy to Use Interface
Whenever an individual decides to choose a product, the interface is the first and foremost thing that everyone considers. You might be one of them. Well! Need not fret!
Power BI has a user-driven interface that requires very little time to adopt it. The best thing about this tool is that you don't need any technical support to select the attributes and access the reports. One can use drag and drop feature to analyze the reports and quickly identify the column charts and other tasks in a simplified manner.
Its strong knowledge base maximizes the tool performance, which further helps millions of users to access the tool without the help of support quickly. So, if you are a non-techie and want to improve your business via a simple and easy interface tool, then it's the right time to use Power BI.
#6- Highly Cost-effective
Cost is another crucial factor that plays an essential role in making an informed decision. Most people wish to choose a tool that is free and offers tremendous benefits.
You will be amazed to know that to access the Power BI desktop; you don't need to invest a single penny as it is completely free. Even the pro version of Power BI is available at a very low price that is USD 10 per month. This articles explains the details of Power BI licencing for you.
In such a limited amount, you will get an opportunity to customize costing according to the interest and usage of the audience. Even the training cost of this product is low, which further helps the organizations to drive better results.
Thus, get ready to save your money as well as your turnarounds.
#7- Intuitive UX Feature
Besides other benefits, Power BI also offers intuitive UX features that make the tool visually appealing and neat. Functionalities such as easy resizing, drag and drop functionality, and copy-pasting, etc. makes it the right fit for you.
Indeed, creating branding and color schemes is not a cakewalk, but Power BI themes make it possible. The users of Power BI can easily create simple and efficient Power BI branding themes that are stored in the form of a .json file, which further helps the developers in importing the theme without any hassle. Moreover, it becomes easy for users to create charts and graphs.
Wanna know more about creating themes in Power BI? Click here.
#8- Secure Sharing
Data is the backbone of every business. Thus, organizations want a secure tool that ensures to maintain their brand reputation.
All thanks to the Microsoft Power BI service. It helps the users to store, analyze, publish, and share the data securely. Due to its incredible cloud-based features, users can visualize the data on the internet without facing any security challenge. Furthermore, it helps to set up an automatic data refresh that further allows the users to access the latest information.
So, if you want to protect your data better, then start using the right tool that is secure, user-friendly, and productive. The answer is- Power BI.
Useful reading: Benefits of Using Business Intelligence Software
In a Nutshell
There are no two opinions that Power BI is a great tool that helps the organizations to streamline the business tasks and make the right decision at the right time. The ever-growing set of tools hold the potential to analyze the data and understand the changing business and customer habits.
Hopefully, the benefits mentioned above will help you in understanding why the Power BI tool is on the top and why organizations consider it a super start for your business.
Now, what are you waiting for? Roll up your sleeves and start making decisions that are in favor of your company.
Still, if you have any queries about whether Power BI is the right tool for you or not, feel free to leave a comment in the section added below.