PVC piping is a preferred material for water projects, based on a recent nationwide survey of engineers, contractors, and city employees.
WASHINGTON, DC – The Vinyl Institute (VI), the U.S. trade association representing manufacturers of vinyl, vinyl chloride monomer (VCM), additives, and modifiers, is pleased to report that PVC piping is a preferred material for water infrastructure, based on a recent nationwide survey of engineers, contractors, and municipal employees involved in water projects.
"We're extremely pleased to hear that PVC is a material of choice in many piping applications," said Ned Monroe, VI President and CEO. "PVC pipe offers unsurpassed reliability and durability, and it plays a critical role in clean water delivery. We're glad to see that those who specify piping materials are recognizing the benefits that PVC plays as well."
The survey, conducted by Accountability Information Management, Inc. (AIM), a marketing research company specializing in business-to-business sales channels, surveyed 239 individuals from across the U.S. in spring 2021. The objective of the survey was to learn more about the market's satisfaction with PVC pipe and better understand specification involvement by audience on pipe material in water infrastructure projects. The survey asked questions about various piping materials, including PVC, cast iron, asbestos cement, concrete steel cylinder, galvanized steel, ductile iron, and other plastics in their use of potable water, wastewater, agricultural, and drain, waste, or vent applications.
Respondents shared the majority of their existing pipes, and the pipes they specify in all applications were PVC. And shared that the majority of their projects over the next five years would be installing new pipelines. Of all water applications, respondents anticipate that they will specify PVC pipe for nearly 65% of both new and replacement pipe projects, on average.
Q13: What percent of your replacement or new projects/pipes do you anticipate will specify/use PVC pipes?

"In my 45 years in consulting, I have come around from clay, cast iron, and copper to specifying PVC for most projects," said one survey respondent. "If the correct pipe is specified in terms of strength and proper joints, and installed correctly, PVC is the better alternative."
As far as key benefits, respondents cited ease of installation, ease of maintenance, and PVC's durability as most important to them for water projects.
Q15: In your opinion, what are the top five most important benefits of using PVC pipe for water projects?

In addition, respondents to the poll expressed high level of satisfaction with many characteristics of PVC pipes.
Q17: On a scale of 1-10, tell us how satisfied you are with the following factors associated with PVC pipe.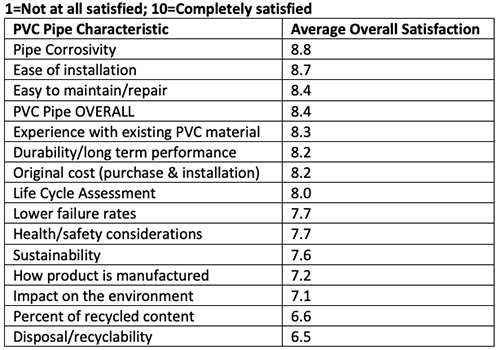 The survey was conducted from April 20, 2021, to May 3, 2021, to understand the perceptions and use of PVC piping materials for water infrastructure projects by municipalities in residential/commercial buildings and agricultural applications. The survey was conducted via email and sent to more than 100,000 individuals identified from industry proprietary lists. The respondents were not aware that the VI was conducting the research. Survey respondent makeup was: 13% contractors, 43% municipality workers, and 44% engineers. Respondents were from all areas of the U.S., and regional coverage was 18% west, 17% northeast, 31% Midwest, and 34% south. The confidence level was 95%
About the Vinyl Institute
The Vinyl Institute (VI), founded in 1982, is a U.S. trade association representing the leading manufacturers of vinyl, vinyl chloride monomer, vinyl additives, and modifiers. The VI works on behalf of its members to promote the benefits of the world's most versatile plastic, used to make everything from PVC piping to flooring, roofing and vinyl siding. The vinyl industry in the United States employs over 350,000 highly skilled employees at nearly 3,000 facilities and generates an economic value of $54 billion. For more information, visit vinylinfo.org.