Mortensen brings more than two decades of industry experience to expand Leviton's Global Distribution Sales and Marketing.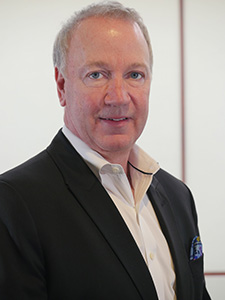 Melville, NY, March 16, 2020 – Leviton announced today the hiring of Randy Mortensen to serve as its new senior vice president of global distribution sales and marketing. In this newly created position, Mortensen will be responsible for the company's US Distribution Channel, all international sales and the eBusiness Channel.
In addition, Mortensen will take on the responsibilities of Bill Marshall, senior vice president of distribution sales and marketing, who is retiring on December 31, 2020. Marshall and Mortensen will work closely to ensure a smooth transition of the US distribution sales and marketing responsibilities.
"Randy brings a vast amount of international experience and knowledge that we believe will help to expand Leviton's global footprint," said Daryoush Larizadeh, president and chief operating officer of Leviton. "We are thrilled to welcome Randy to the family and we're excited for his passion and leadership to enhance our culture."
Mortensen brings more than 25 years of experience in the electrical and network solutions industry from a variety of global senior commercial roles. Most recently, Mortensen held several senior executive positions at Anixter International where he was responsible for technology strategy, global marketing solutions, network solutions marketing and supplier relations. Prior to Anixter, Mortensen was the president of the Premise Networks Group at Molex for the Americas and EMEA. At Molex, he had P&L responsibility for manufacturing, product development, sales and marketing. He also served at Panduit in several roles including vice president of data communication sales, vice president of global channel development and managing director, EMEA.
About Leviton
Every day, Leviton is engineering possibilities that make the future happen, meeting the needs of today's residential, commercial, and industrial customers globally. From electrical, to lighting, to data networks, and energy management, Leviton develops thoughtful solutions that help make its customers' lives easier, safer, more efficient and more productive. Driven by its commitment to its customers, the ingenuity of its employees and the safety and quality of its products and solutions, with Leviton, the FUTURE IS ON. For more information, visit www.leviton.com, www.facebook.com/leviton, www.twitter.com/leviton, or www.youtube.com/Levitonmfg.