GEFERTEC GmbH will present the revolutionary 3DMP® manufacturing technology during FABTECH (November 6th till 9th) in Chicago.
3DMP® uses wire instead of powder as basic material
Economical manufacturing of parts up to 3 m3 and 3,000 kg
GTarc Machine available as 3- or 5-axis machining centre
Significantly lower investment compared to other 3D printing technologies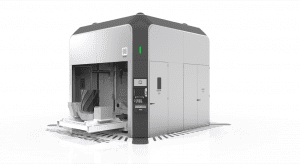 Berlin, October 12th. 3DMP® enables the cost-efficient and fast production of near-net-shape metal parts. Quality of the parts is comparable to standard manufacturing methods. The 3DMP® technology is based on well-proven electric arc welding and is therefore using wire as original material, so the final part is formed welding layer by welding layer. This new method offers a range of advantages compared to other additive manufacturing technologies, which are based on powder as original material. For example, there is no elaborate powder handling, and most standard materials are available as wire at significantly lower prices. The main benefit is the high production speed, which can be up to 600 cm3 per hour depending on the material.
3DMP® is ready to use in the new GTarc Machine, which is available as a 3-axis version for parts up to 3 m3 and as a 5-axis version for parts up to 0.8 m³. These characteristics show that the machining center is ideally suited for the production of complex and larger parts made of steel, nickel, titanium, or aluminum. First customers are using the new GTarc already: The FIT Group, a leading expert in Additive Design & Manufacturing, offers rapid prototyping. Siemens AG is using the new technology in its Digital Factory (DF) division.
A special 3DMP® CAM software calculates the data out of the CAD-modeled part, which enables the CNC-control unit to position the welding head with high precision. The machine produces the near-net-shape part fully automatically. The finishing of the part is done external by standard CNC milling machine. Compared to other manufacturing methods 3DMP® has a maximum material utilization, which leads to substantial cost savings, especially when expensive materials like titanium are used. Therefore the technology is very promising for applications in the aerospace industry as for various other branches. Depending on the application, manufacturing costs decrease up to 60 per cent. The GTarc machine is built in a modular way, making future upgrades very easy. For example, customers can upgrade the 3-axis version with a pan-tilt-table to obtain the 5-axis version. Prices of the new GTarc machining centers are in the range of a smaller CNC milling machine and are considerably lower than comparable machines for 3D printing.
Visit GEFERTEC at FABTECH Booth C41318
(2.863 characters)
About GEFERTEC GmbH
GEFERTEC invented the innovative 3DMP® method for additive manufacturing of metal parts, which offers completely new possibilities. The company is the first to offer modern machining centers based on this technology. GEFERTEC is part of the Berlin headquartered Scanconic Group, which has around 250 employees and a turnover of approximately 40 million Euro.
Publication is free of charge – please send voucher copy or link
Editorial Contact:                                                      Reader Contact:
Jörg Lantzsch                                                                     GEFERTEC GmbH
Agentur Dr. Lantzsch                                                        Schwarze Pumpe Weg 16
Panoramastraße 22                                                           12681 Berlin, Germany
65199 Wiesbaden, Germany                                            Tel.: +49-30-912074-360
Tel.: +49-611-205 93 71                                                    E-Mail: info@gefertec.de
E-Mail: j.lantzsch@drlantzsch.de                                  www.gefertec.de
www.drlantzsch.de