Sakuu Corporation, an additive manufacturing technology company, announced the commencement of its pilot line and learning center.
San Jose, USA – Sakuu Corporation, an additive manufacturing technology company, today announced the commencement of its pilot line and learning center. Sakuú's pilot line will have the capability to produce up to 2.5 MWh per year of solid-state batteries and in the future will also serve as a customer learning center for its advanced additive manufacturing platform. Sakuú is developing industry leading technology to produce solid-state batteries that will be up to 50% smaller and 30% lighter than today's lithium-ion batteries and much less expensive to produce in high volume.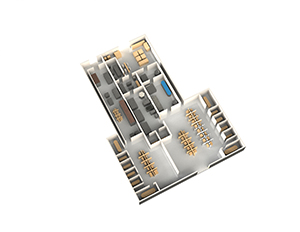 Sakuú has engaged with leading factory design and process innovators Relevant Industrial and Honeywell Process Solutions to aid in the design and development of its pilot line to produce solid-state batteries. This pilot line will demonstrate the viability of the battery manufacturing process and enable Sakuú to deliver sample products to its Early Access strategic partners. Relevant and Honeywell will aid in the process design by taking Sakuu's proprietary technology and scaling up the lab environment into a fully functioning pilot manufacturing plant. The second phase is expected to follow in 2022, utilizing an array of Sakuú AM Platforms to mass produce solid state batteries with up to 1 gWh of capacity per year.
"Relevant is excited to be part of this groundbreaking project. Combining Sakuú's advanced technology with our experience in engineering, design and systems integration using Honeywell's leading automation technologies, provides a unique opportunity to shape the future of manufacturing. We appreciate Sakuú's confidence in Relevant and look forward to a long and mutually beneficial partnership," said John Carte, CEO – Relevant Industrial.
Relevant and Honeywell will provide engineering, process design, systems integration, and process manufacturing expertise to efficiently build the factory.
"This is an important milestone for Sakuú. Our SSB technology development has progressed to the level where we have decided to move ahead with our plan to construct and operate a pilot facility. With the assistance of our key development partners, Relevant Industrial and Honeywell Process Solutions, the facility will be operational by end of 2021. This facility will enable us to provide our strategic customers and early access partners with solid-state batteries for their own development and testing", said Robert Bagheri CEO and Founder.
About Relevant Industrial, LLC
Relevant Industrial, LLC was formed in 2010 to acquire certain assets of Wilson Mohr, which traces its roots back to 1965. Relevant serves customers in the Renewable Energy, Alternative Fuels, Refining, Petrochemical Processing, OEM, Food Processing, Upstream Oil & Gas, and Municipal markets through products and services including instrumentation and automation, rotating equipment, purification, and thermal equipment. Relevant Industrial is your partner for relevant solutions. For further information about Relevant Industrial, visit www.relevantsolutions.com.
About Sakuú Corporation
Headquartered in San Jose, California, USA and formerly known as KeraCel Inc, Sakuú is an industrial solutions provider that has developed a major breakthrough in additive manufacturing (AM) technology to address the approximately $800 billion digital manufacturing transformation. The company's flagship Sakuú AM platform is the world's first multi-material, multi-process AM solution for agile, cost-effective, high-volume production of complex functional devices. This enables manufacturers within the energy sector to achieve significant improvements in the cost, performance, and range of current solid-state battery options. Beyond energy, Sakuú's AM platform opens up application possibilities in a host of other sectors, among them aerospace and automotive, consumer electronics, IoT and medical.
To learn more about Sakuu, please visit www.sakuu.com, or contact:
Jonathan Wake/Sophie Low
Incus
T: +44 1737 215 200
sakuu@incus-media.com
Dave Pederson
VP Marketing & BD
Sakuú Corp.
media@sakuu.com