SLIPNOT® specialized safety flooring and surface technologies reduce slips and falls over 90%, increase worker safety and uptime.
Manufacturers Can Eliminate Slips and Falls by 90%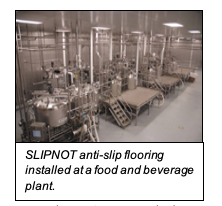 Manufacturers across all sectors deal with employee slips and falls every day largely because up to 10% of a manufacturing facility is considered to have a highly hazardous surface. Add on slippery conditions many "wet" manufacturers work in and companies have even more falls and injuries to mitigate.
SLIPNOT makes anti-slip flooring and coatings that eliminate 90% of slips and falls. Would you like to schedule an interview with a Slip Prevention Safety Expert to learn more about anti-slip technologies made specifically for manufacturers?
SLIPNOT Slip Prevention Safety Expert Jeff Baker can explain:
How to identify the high-risk areas in a facility
Why go-to safety solutions manufacturers typically rely on solutions like diamond plate that actually make conditions more dangerous
What to know about the science of slips and falls so manufacturers can minimize them
PACK EXPO Booth #7773
More about SLIPNOT flooring: https://www.slipnot.com/products/?utm_source=press+release&utm_medium=email&utm_campaign=pack_expo
Facebook: @SLIPNOTMetalSafetyFlooring
LinkedIn: @ SLIPNOT Metal Safety Flooring
Twitter: @SLIPNOT
Instagram: @slipknotmetalsafetyflooring