Epicor report finds supply chain growth is tied to cloud adoption, which is seen as a critical business accelerant in 2021.
By Steve Murphy, CEO, Epicor Software Corporation
Midsize companies are the cornerstone of our nation's economy – they account for about one-third of private-sector gross domestic product1 (GDP), and over the past decade they added more than 2 million jobs. Why is this important? Because GDP and job availability impact our quality of life. That's why Epicor took a deep dive into the priorities of midsize companies, the challenges they face, and why cloud is critical to a post-COVID economy in our annual Industry Insights Report2.
The global survey focuses on bringing to the forefront the voices of the essential businesses that keep the world turning and provides opinion from across the supply chain landscape. While the overwhelming message of digital acceleration is encouraging for the nation's economic recovery and future growth, the data also shows where these midsize essential businesses need support from the IT industry in order to thrive.
The key takeaway? Leaders of midsize businesses are bullish about growth fueled on investment in cloud-ready technologies. The conversation is no longer "why cloud," but rather "how to move" to gain competitive advantage.
Background
In 2020, mobile solutions became a practical necessity for many businesses, from contactless delivery to robust eCommerce systems. This new reality brought an urgent need for scalability, flexibility, agility, and security. But good news followed as new generations of cloud-based productivity solutions could deliver all these benefits and more, as revealed in research findings from the Epicor Industry Insights Report.
Diving Into Results
The Industry Insights Report found the nation's most essential business leaders are leaning into the accelerating forces of COVID-19 to leap forward – and the most significant indicator of progress is the radical swing in cloud adoption. In 2020, 25% of respondents declared cloud a strategic priority. In this year's study, 99% of those surveyed confirmed they plan to move to the cloud, and 94% of them intend to do so this year.
During the past 16 months, cloud was a key element in helping businesses be agile and boosting business resiliency. In fact, migrating to the cloud builds flexibility and adaptability into industry productivity solutions. Cloud enables businesses to go beyond meeting the minimum standard they require to run their business. It moves them toward unlocking further capabilities that can boost their bottom line. Business owners agree — 93% of businesses mostly on cloud said that it's flexible enough to meet their business needs.
With business needs addressed, midsize organizations predict growth – and job creation is expected to follow. The report found 75% of respondents expect their business to be fully recovered from the impact of COVID-19 by 2022, 61% expect to expand in size and scale over the coming three years, and 55% expect to create new jobs.
Expansion and growth, however, can't be sustained if security is compromised. Powerful security is crucial to the successful and seamless operation of every hard-working business – and most business leaders consider it a top priority. Decision makers across industries agree that improved security is the primary benefit of the cloud, with almost 9 in 10 businesses believing their data is safer in cloud-based solutions. And it's true. The cloud offers unparalleled security. With a cloud-based solution, data is consistently backed up in separate servers often thousands of miles apart. This redundancy helps ensure that files are safe, regardless of what might be happening in a specific location. And because cloud providers continuously update their servers to combat the newest cyberthreats, they're able to stay two steps ahead of hackers.
For added safety, the cloud can help essential businesses future-proof themselves against disasters as well. Everyone hopes that an event like COVID-19 occurs once in a lifetime – but other business disasters such as power or internet outages, floods, or fires can threaten key technology for on-premises solutions. All such disasters have implications for the bottom line, and 45% of businesses report financial loss after experiencing such issues. Without instant access to the cloud-based tools that allow their business to utilize a mobile workforce, scale as required, and respond to real-time data, they find themselves reworking on-premises solutions to keep up with fast-changing business conditions. This takes time. The longer it takes, the more they risk falling behind their cloud-based competitors.
Moving From Consideration to Adoption
The last year resulted in businesses gaining a better understanding of cloud. Although cloud maturity varies across industries, decision makers feel overwhelmingly optimistic about its capabilities. Businesses are discovering cloud's many benefits, such as how it increases collaboration, improves flexibility, and frees up resources to focus on initiatives that grow the bottom line. For those who've already made the switch, 92% of all cloud businesses feel they are leaders or at the very least on par with the competition — whereas those mostly on-premises feel left behind.
While the companies who make, move, and sell what is most essential to economic growth may be all aboard the cloud train, the data suggests their implementation needs vary vastly. One of the most important takeaways from the report is that migration to the cloud is a journey needing support from an expert ERP partner. Of the decision makers polled, 47% say a dedicated migration partner is essential – and the best partners proved to be those with deep industry expertise, a highly personalized approach, and complete dedication to the customer success. These core tenets will make cloud migration easier and enable hard-working businesses to grow stronger and faster. With 94% of industry leaders believing technology is critical for expansion, now is the time for a shift to cloud to accelerate business ambitions.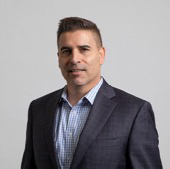 For nearly 50 years, Epicor customers in the distribution, manufacturing, and retail industries have trusted Epicor to help them do business better. Steve Murphy joined Epicor Software Corporation as Chief Executive Officer in October 2017, bringing over 20 years of technology industry executive management experience to the role. As CEO, Murphy is responsible for providing a long-term strategic vision for the company—with a focus on customer experience and delivering innovative products, services and support that drive business growth. Murphy holds an MBA from Harvard Business School and a Bachelor of Science in Mechanical Engineering from University of California, Davis.
1 Source: Website – The National Center for the Middle Market
2 Survey Methodology: PSB conducted an online survey among n=1,250 IT decision-makers in the U.S. and the UK n=1,000 were based in the U.S. The interviews were conducted in English from February 22 to March 11, 2021. The margin of error for the total sample is +/-2.77ppts and larger for sub-groups.