SPIROL has announced that two of its locations have received the 2020 General Motors Supplier Quality Excellence Award.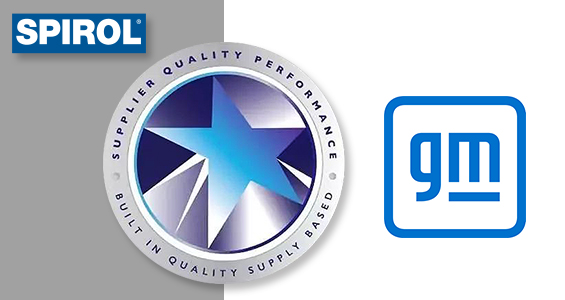 SPIROL is pleased to announce the receipt of the 2020 General Motors Supplier Quality Excellence Award. Two of SPIROL's locations, SPIROL International Corporation in Danielson, CT, USA and SPIROL Industries Limited in Winsor, Ontario, Canada, each received notification of the awards on July 1, 2021. A Senior Supplier Quality Engineer at General Motors stated, "Suppliers who receive this award recognition have met or exceeded a very stringent set of quality performance criteria and have achieved the cross-functional support of the entire GM organization for the calendar year 2020."
SPIROL has received the General Motors Supplier Quality Excellence Award every year since it was originally presented in 2012. According to a video presentation by General Motors' top executives for Supplier Quality Development, "Each year, GM recognizes their top performing Supplier Manufacturing DUNS locations around the globe. This General Motors Supplier Quality Excellence Award is for those locations who consistently deliver quality products, on-time, and at-rate and with zero disruptions throughout the year."
SPIROL manufactures Coiled Spring Pins, Slotted Spring Pins, Solid Pins, Alignment Dowels & Bushings, Spacers, Compression Limiters, Inserts for Plastics, Disc Springs, Precision Metal Shims, Installation Technology and Vibratory Feeding Equipment. SPIROL supplies millions of engineered fastening components to General Motors' assembly plants located around the world from several global stocking facilities.
Tom Buchta, President of SPIROL Industries in Canada, said appreciatively "This award is a testament to our foundational belief in providing high quality product and exceptional service to our customers. SPIROL is committed to being a reliable supplier to General Motors, and we are proud to have received this prestigious award once again – especially during a turbulent year filled with so much uncertainty attributed to the COVID-19 pandemic."
SPIROL Connecticut's 2020 General Motors Supplier Quality Excellence Award Certification
SPIROL Canada's 2020 General Motors Supplier Quality Excellence Award Certification
View SPIROL's quality certifications at all of their global locations.
SPIROL is a leading manufacturer of a diverse line of engineered components for fastening and joining. SPIROL can be found on 4 continents within the following 12 countries: Brazil, Canada, China, Czech Republic, England, France, Germany, Mexico, Poland, South Korea, Spain, and the United States. Since 1948, SPIROL has been providing technical expertise in fastening, joining and assembly to the world's leading manufacturers.