Sterling TT equipped GE Power Conversion with CACW coolers for GE's new Rotating Stabiliser, improving renewable grid stability.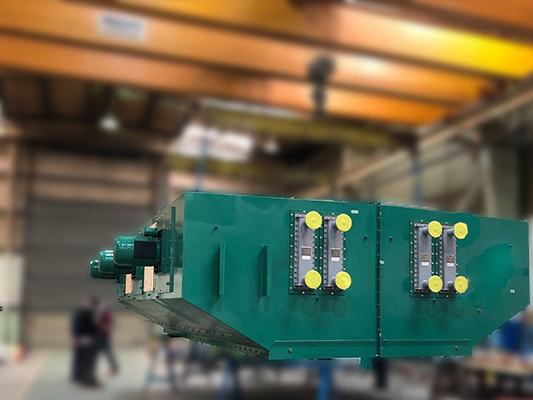 Sterling Thermal Technology recently equipped GE Power Conversion with closed air circuit water coolers (CACW) for GE's new Rotating Stabiliser, engineered to improve the grid stability with renewable energy integration.
The challenge
GE Power Conversion engineers advanced motor, drive and control technologies that evolve today's industrial processes for a cleaner, more productive future. It serves specialised sectors such as energy, marine, industry and all related services.
Renewable energy is being used more and more but provides new challenges to the grid due to intermittency and potential instability. Leveraging GE Power Conversion's vast experience in rotating machine technology they developed a Rotating Stabiliser solution which replaces the stability services provided by traditional thermal plant generation, but without CO2 emissions.
"The global energy mix is changing, with more clean renewable energy sources being added to the grid. The intermittency of renewable energy sources has raised clear challenges to grid integration and its stability." – GE Power Conversion
However, the challenge with high inertia rotating equipment is heat generation. Manufacturing an efficient Rotating Stabiliser requires reliable and precise thermal management. GE Power Conversion collaborated with Sterling Thermal Technology to develop an effective air to water cooling system for GE's solution.
The solution
Sterling Thermal Technology design and manufacture bespoke heat exchangers. They equipped the Rotating Stabiliser with a closed air circuit water cooler (CACW). This is a form of heat exchanger designed to cool generators and large electrical motors.
Working closely with GE Power Conversion, they designed the CACW equipment to meet the precise requirements of their new Rotating Stabiliser. Together, Sterling TT and GE Power Conversion developed technology that helps to stabilise the grid and enable higher penetration of renewable energy.
"We are delighted to be in a position to make a positive contribution to the wind power market and renewable energy, and to play a role in a more sustainable future." – Michael Allman, Group Sales and Marketing Director, Sterling TT
GE's new Rotating Stabiliser with Sterling TT's CACW technology is now used by Statkraft – a European renewable energy producer and a global company in energy market operations.
Find out more about GE Power Conversion's Rotating Stabiliser or Sterling TT's closed air circuit water cooler (CACW) on their respective websites.
https://www.sterlingtt.com/
https://www.gepowerconversion.com/