Unity supports Object (S3) protocol, enterprise-class ransomware protection and compliance requirements, as well as increases performance.
Sunnyvale, Calif. – StorCentric, provider of a comprehensive portfolio of secure data management solutions, today announced Nexsan Unity software version 7.0, which includes important enhancements to power enterprise-class security, compliance and ransomware protection. The new Unity software now supports Object (S3) protocol, and data-centric security features such as immutable snapshots and object locking. This release also offers up to a 40% performance increase over Nexsan Unity version 6.1.
IDC recently stated, "In 2020, 64.2ZB of data was created or replicated, defying the systemic downward pressure asserted by the COVID-19 pandemic on many industries and its impact will be felt for several years." IDC also stated, "The amount of digital data created over the next five years will be greater than twice the amount of data created since the advent of digital storage." This massive growth in data combined with significant changes in the way we work today and a rapid rise in cybercrime has driven increased demands and challenges for enterprise data center managers. The new Unity software enhancements are designed to address these issues and redefine how StorCentric channel partners and customers store, manage and protect data at scale.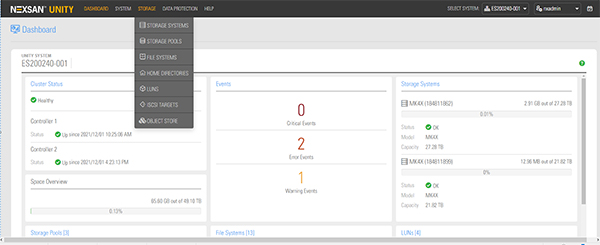 Available in Nexsan Unity v7.0:
Protocol Support
Object (S3) Protocol – Unity is now a true unified solution, supporting Block (iSCSI, FC), File (NFS, CIFS/SMB) and now Object (S3) protocols.
Security, Compliance and Ransomware Protection
Immutable Snapshots – Unity now supports immutable volume and file system snapshots for data protection. This provides secure point-in-time copies of data for business continuity.
Object Locking – Unity now supports object locking, enabling bucket or object-level protection for a specified retention period to create immutable copies of data. This allows enterprises to address compliance, regulatory and other data protection requirements.
Data Integrity – Unity supports pool-scrubbing to detect and remediate bit rot to avoid data corruption.
Performance Improvements
Total Throughput has increased up to 13GB/s on the existing platforms.
Up to 50% increase in Unity to Assureon Ingest Rate – Significantly improves the efficiency of the Unbreakable Backup solution.
"The Nexsan Unity provides flexibility in data management, and provides a safe, effective backup solution for our clients. Our firm has been providing IT solutions for nearly thirty years, and Unity offers our customers a proven solution for meeting their internal governance requirements, regulatory compliance mandates and data security needs. Now, with the addition of object store, additional security capabilities and performance enhancements, the platform has become an even more powerful solution," said Jennifer Naughton, President, Radiant Resources.
"Unity is a high availability data management solution designed specifically for enterprises. The Unity solutions feature flexible configurations providing for a broad range of capacity and performance requirements. Unity delivers the core enterprise features that are exactly what customers demand — all in a single platform," said Surya Varanasi, CTO, StorCentric.
Varanasi continued, "The addition of immutable snapshots of volumes and file systems, customers can now create locked-down point-in-time copies of their data in order ensure the ability to recover data and resume operations quickly and seamlessly, in the face of a successful cyberattack, without ever having to pay a penny in ransom."
The Nexsan Unity software v7.0 is now generally available. To learn more, please visit: https://www.nexsan.com/unified-storage-unity/
About Nexsan: www.nexsan.com
About StorCentric: www.storcentric.com