S1: Backup is first backup storage target to fill performance/recovery gaps in backup infrastructure.
Modern backup-server software solutions are showing tremendous innovation to help organizations protect against ransomware attacks and speed not only recovery times but return to operation (RTO) times. The problem is that backup-storage hardware leaves gaping holes in the backup architecture. S1:Backup is the first backup-storage software solution that fills those holes, for the first time, elevating the value of the backup process to provide data center wide business continuance while increasing the return on investment.
"As an enterprise storage consolidation company, we've always started the consolidation we often start a customer's consolidation journey as a backup storage target," Said Gal Naor, StorONE CEO. "When we examined their frustrations and points of exposure, we discovered distressing gaps between backup-server software innovations and backup-storage capabilities. S1:Backup is built on our Enterprise Storage Platform and is the first solution to enable companies to complete their ransomware recovery strategy and extract full value from modern backup-server software innovation."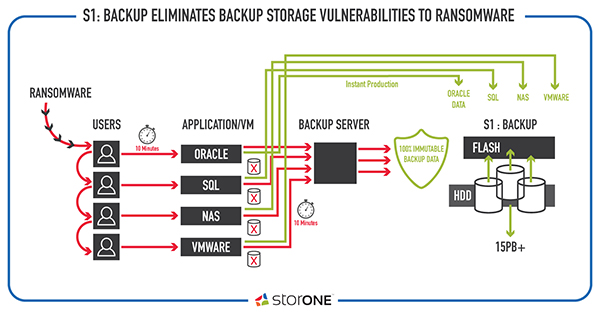 The First Backup Optimized Enterprise Solution
Capabilities like block-level incremental (change block tracking) backups enable customers to reduce their exposure to a ransomware attack or other failure. However, the high frequency of backup jobs necessary to limit the damage puts far too much strain on the over two-decades-old technology our competitors.
S1:Backup includes a backup optimized flash tier that:
First backup-storage solution to deliver hundreds of thousands of IOPS
Supports the most simultaneous block level incremental backup jobs
Lowest backup costs thanks to maximum performance from eight flash drives
Unique per backup job immutability without performance impact, completing the backup-server software ransomware protection capabilities.
S1:Backup's production-class performance can sustain the IO load of high-frequency block-level backups and immutably store those backups. Combining S1:Backup with the right backup-server software completes the organization's ransomware protection strategy.
The Best True High-Density Drive Support
Modern backup-server software's databases can manage decade-plus retention requirements. Consequently, modern backup-storage software needs to support high-density hard disk drives (HDD) without compromising availability.
S1:Backup provides genuine support of high-density HDD:
Fastest RAID rebuilds, recovering from 18TB drive failure in three hours (competing solutions take days)
Unique bit-error-rot protection, critical for long-term retention
Ultimate flexibility, mix new drive densities without creating new volumes or reconfiguring backup jobs
Lowest TCO, auto-tier aging backup from flash tier to less expensive HDD tiers.
Zero compromise, high-density drive support enables IT to reduce the cost and floorspace requirements of an ever-expanding backup capacity demand. Dynamic mixing of new higher density drives provides a future-proof solution that continually lowers the cost of backup storage. All-flash backup appliances are how vendors try to hide their inability to provide true high-density hard drive support but they can't hide the increased cost. S1:Backup enables customers to benefit from the 10X price advantage of hard disk drives without lowering service expectations.
First to Elevate Instant-Recovery to Instant-Production
Modern backup-server software's instant or live recovery features provide a dramatic reduction in recovery times. The problem is that the overhead of legacy backup-storage software makes the performance of that instantly recovered VM or application unusable and risky. The instant recovery process makes backup storage production storage.
S1:Backup is the first to deliver a production-class experience:
Highly-Available backup cluster
Supports FC, iSCSI, NVMe-oF, NFS, SMB and S3 protocols
Delivers enterprise-class performance and features
The result is that backup storage for the first time is standby-production storage, ready to "stand-in" for production storage within minutes. IT can now take the time required to investigate the ransomware attack, software bug, or hardware failure that instigated recovery without impacting users or applications. Users won't realize they are operating in a recovered state.
Learn More About S1:Backup:
Register for our live webinar "5 Fixes to Complete Your Ransomware Protection Strategy," Live on November 18th.
Download our white paper "Modernizing Backup Infrastructures"