Suhner Industrial Products released a new video series offering maintenance tips and assembly procedures on using their automated tools.
Suhner Machining recently filmed a series of maintenance tip and unit assembly videos at the company's North American Service Center, housed on the campus of corporate headquarters in Rome, Georgia. The presentation of the procedures was done by Division Manager and longtime Suhner team leader, Lee Coleman. These "hands on" demonstrations would interest any customer or maintenance personnel currently using or planning to employ Suhner automated tools in their shop or production facility. According to Coleman, "We made these videos as the first in a series. Our goal is to help customers and trainers impart the proper procedures for maintenance and assembly of our automated drills, taps and other tools, which are used extensively in automotive and other high-volume production facilities, contract job shops and elsewhere."
The company is planning a number of videos to assist operators and especially maintenance personnel in the proper care and handling of these high-precision automated tools, many of which typically perform thousands of operations in a single shift on the production line.
These first four new videos cover the following topics on the SPINDLEmaster Max 100:
General Unit Maintenance
Flag Nut Adjustment
Proximity Switch Adjustment
Spring Adjustment
All these videos may be viewed via the following links:
For more information, please contact:
Lee Coleman, Division Manager-Machining
Suhner Industrial Products Corp.
25 Anderson Road SW
Rome, GA 30161 USA
Phone:  706-235-8046
Fax: 706-235-8045
machining.us@suhner.com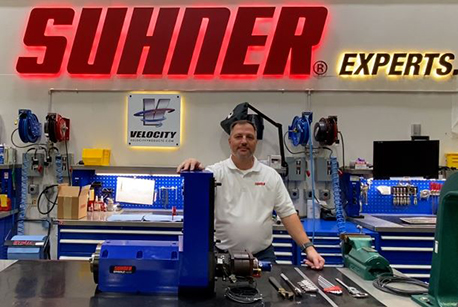 Suhner is offering four new maintenance and assembly videos for their SPINDLEmaster Max 100 automated tools on their YouTube channel. According to the company, these will be the first in an ongoing series of videos the company is producing to assist users in the proper operation and maintenance of Suhner automated tools.