Detectable warning systems' Ada compliant Redimat™ delivers concrete/asphalt advancements for safety, construction, And ease-of-installation.
Chagrin Falls, OH−February 2020
The forebearer of Detectable Warning Systems'™ (DWS) complete line of ADA compliant tactile warning products for visually impaired or handicapped pedestrians, the original RediMat™, is constructed of extremely durable, UV protected, glass-filled polyurethane and is surface applied on both asphalt and concrete.
Now a part of the proprietary product family of Mar-Bal, Inc. (Mar-Bal: Chagrin Falls, OH), DWS has advanced the innovative, flexible RediMat's proprietary pre-applied adhesive system, that delivers some of the industries' quickest installation (less than 10 minutes) and drastically reduces labor time and expense–but not at the expense of durability.
Paving-focused contractors, distributors, states, and municipalities will benefit from the multi-surface adhesive system across a myriad of markets and applications including: Parking Structures, Health Care-Disability, Rail- Transport, Retail, Universities/Education, etc.
RediMat™ Advanced Property / Installation Profile:
Complimenting Detectable Warning Systems™ (DWS) complete construction and safety portfolio, RediMat's proprietary formula is a flexible, UV treated composite comprised of the following specifications:
Dome Spacing: 2.35" Inline      Slip Resistance: .90
Compressive Strength: 30,000 psi      Sizes From: 2' x 3' to 3' x 5' and 10' radius wedge
Taber Abrasion: (1000gms/1000 cycles) 150mgs     Hardness: 90 (Shore A)
Notably, RediMat's flexible polyurethane material conforms to uneven surfaces, and is unbreakable–it will not chip, crack, or splinter. Engineered construction also features a beveled edge for easy pedestrian access.
Radius tile is available in a "wedge" shape ideal for rounded intersections requiring a radius system. Directional mats are also available and popular for applications along bike paths and train stations–directing pedestrians to the train itself. Available colors (integral throughout) include: Safety Yellow, Brick Red, Black, and Gray.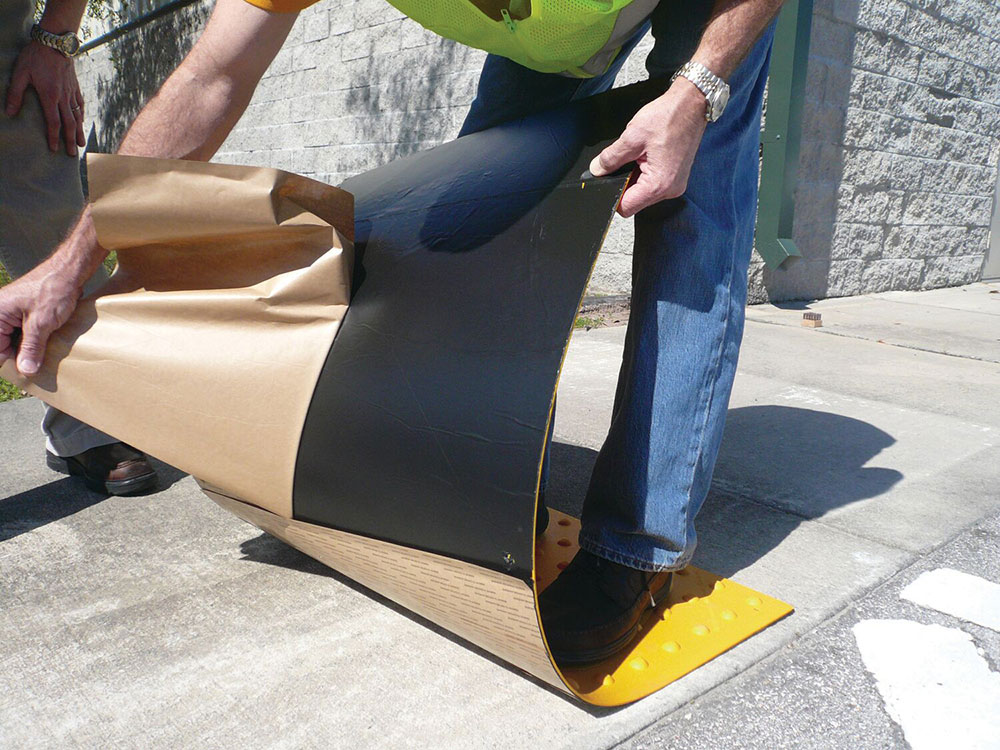 Engineered for both concrete and asphalt, RediMat offers the easiest installation of any surface applied detectable warning in the industry via their proprietary pre-applied "peel-and-stick" adhesive system. Simply remove the protective backing, peel-and-stick, then roll the mat to ensure a secure bond.
From start-to-finish, this installation typically takes less than 10 minutes–saving costly man hours.
RediMat™ Advancements / Conclusion:
In early 2020, Mar-Bal, Inc. will introduce an enhanced RediMat product to the market. The new RediMat will incorporate a mesh reinforcement providing even more durability. Combining its' current flexibility with the improved durability make RediMat an excellent choice for use in high pedestrian traffic applications, harsh climates, and challenging installations.
Anthony Lignetta, Mar-Bal's Director, Propriety Products, also referenced some of RediMat's more prominent clients stating, "We've done essential installations for key clients including Disney, Apple and numerous transit operations including the New York City Transit and Amtrak locations".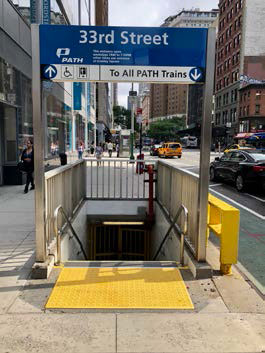 Known as 'The One-Source Solutions Provider', privately held Mar-Bal has three state-of-the-art U.S. manufacturing plants in Ohio, Virginia, and Missouri– producing everything entirely turn-key. The economical DWS products also feature ease-of-installation, consistent delivery, and unparalleled customer service.
Providers of one of the most complete lines of ADA compliant and cost-effective detectable warning surface products on the market, DWS offers both composite and flexible materials for either cast-in-place or surface applied applications including the following brands:
RediMat™ / AlertCast® / AlertTile® / Cast Iron™
For more information on Mar-Bal's line of DWS products please visit: www.detectable-warning.com
Or contact us at: (440) 543-7526
Corporate Profile: Detectable Warning Systems is part of the Mar-Bal, Inc. proprietary family of products. Headquartered in Chagrin Falls, OH, Mar-Bal, Inc. has been an innovative leader in the custom composite, molding and material manufacturing industry since its founding in 1970. For over four decades Mar-Bal, Inc. has manufactured and engineered quality, customized parts and materials while delivering unmatched client cost-effectiveness through superior customer service and the Total Value Commitment. Mar-Bal, Inc. operates manufacturing facilities in Ohio, Virginia and Missouri.
©2020 MAR-BAL, INC. ### All rights reserved.